Are you feeling stuck and wanting to experience a new kind of life? Have you ever considered becoming a digital nomad, living and working in different countries?
If so, you're in luck! We've got the perfect list for you – an unbelievable selection of the 11 best countries for digital nomads to live and work. From Costa Rica to Malta, these countries will provide more than just stunning landscapes; they'll give you a sense of belonging unlike anything else.
So pack your bags, grab your passport, and let's explore the most incredible places on earth!
Table of Contents
Overview
Are you considering becoming a digital nomad? If so, you should know that a digital nomad works remotely worldwide. They often choose locations with great lifestyle options and low living costs while ensuring they have access to fast internet speeds and other amenities needed for their work.
When choosing a destination, digital nomads seek a place to make money online, obtain visas quickly, and find opportunities in their chosen profession. Nowadays, many countries provide all these requirements and more – making it easier than ever to become a successful digital nomad.
What is a digital nomad?
Roaming the globe with a laptop in tow, digital nomads are like butterflies in the wind, flitting from place to place in search of their next adventure.
A digital nomad works remotely and travels around the world while doing so. They often have no fixed address and can work from anywhere as long as they have a reliable internet connection.
Digital nomads typically seek out countries that offer them the best combination of affordability, quality of life, and access to remote work opportunities. Thailand, Costa Rica, and Bali are some of the most popular destinations for digital nomads due to their low cost of living and the availability of long-term visas for remote workers.
These countries also provide plenty of opportunities for digital nomads to explore new cultures while still having access to excellent internet connectivity.
With some research into visa requirements and cost of living expenses, any aspiring digital nomad can find the perfect country that fits their needs.
What do digital nomads do?
As a digital nomad, you can traverse the globe while pursuing remote work opportunities and experiencing new cultures. Digital nomads use technology to live and work from anywhere in the world.
With digital nomadism becoming increasingly popular, many countries have begun offering visas for digital nomads. These visas provide economic stability and allow individuals to stay in the country for extended periods while they explore different cultures and remote work opportunities.
As a digital nomad, having the best laptop for remote workers is very important. By investing in a powerful laptop, you can stay ahead of the curve and have the best tools at your disposal to achieve your goals and thrive as you travel and work.
Regarding destinations, South America is quickly becoming one of the best regions for digital nomads due to the abundance of countries that offer digital nomad visas. Countries such as Colombia, Ecuador, Brazil, Peru, Argentina, Chile, and Uruguay all offer various types of visa programs designed with digital nomads in mind.
These countries provide an ideal combination of affordability, vibrant culture, and unique experiences – making them some of the best locations for those looking to become a digital nomad or enjoy a more flexible lifestyle with plenty of opportunities for remote work.
What to Look for in a Digital Nomad Destination
When choosing a destination as a digital nomad, you'll want to consider factors such as affordability, culture, and costs.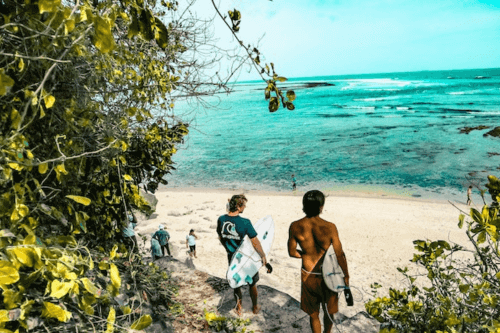 Many countries offer digital nomad visas, allowing remote workers to live and work for extended periods. Additionally, some countries have drawn up lists of the best cities for digital nomads.
Depending on your personal preferences, research these countries with digital nomad visas or look into tourist visa options if you're not looking to stay long-term.
The best places for digital nomads are those that offer affordable living costs and plenty of cultural activities and unique experiences.
Consider cities like Chiang Mai in Thailand or Bali in Indonesia – popular places among digital nomads due to their low cost of living, beautiful scenery, and numerous opportunities for exploring different cultures.
Other great options include Poland, Estonia, and Mexico – all countries with many cities offering low living costs and plenty of attractions and activities for visitors worldwide.
Ultimately it comes down to finding the country that offers what you need most, so take the time to research before making any decisions!
How do digital nomads make money?
Making money as a digital nomad isn't as difficult as it may seem – with some creativity and hard work, you can find ways to sustain yourself while roaming the world.
Digital nomads usually make their money through freelance work such as web design, photography, teaching English, writing, or any other job that can be done remotely.
Many digital nomads live in countries where the cost of living is cheaper than their home country, saving them more money while they travel and work.
Popular places for digital nomads include European countries like Portugal and Estonia, which offer an official digital nomad visa allowing people to stay and work in the country for extended periods. Other popular destinations for digital nomads are South East Asian countries like Thailand, Indonesia, and Malaysia which have become increasingly popular due to their affordability and abundance of opportunities.
No matter what country you choose, many options are available for those who want to make money as digital nomads, but always check that you can work remotely in your chosen country.
Digital nomad visas
Traveling the world and working from abroad just got easier with digital nomad visas, unlocking a world of opportunity for those with the courage to take a chance.
For digital nomads searching for the best countries for remote work, many destination options offer visas specifically tailored to their needs. One of the most budget-friendly and popular in Thailand, which offers a special visa explicitly designed for remote workers and digital nomads.
Other countries that offer long-term visas for digital nomads looking for an extended stay include Estonia, Portugal, Mexico, Colombia, and Croatia. Each country offers its unique advantages and challenges for those ready to make their move as digital nomads around the world.
With more countries opening their doors to this growing community of remote workers daily, it's never been easier or more exciting to be part of this global movement!
The Best Countries for Digital Nomads
Costa Rica
If you're looking for a tropical paradise to call home while you pursue your career, Costa Rica is the place for you! This Central American country is offering working visas at the time of writing.
The current visa is Rentista, allowing foreigners to stay for two years. This visa is for self-employed people or entrepreneurs and can be extended.
Costa Rica is also about to launch a digital nomad visa, so watch for this.
In recent years, Costa Rica has become very popular amongst digital nomads working on a digital nomad visa or dreaming of living and working in this stunning country.
With its incredibly diverse wildlife, lush jungles, and golden beaches – it's no wonder more people are deciding to set up camp here and enjoy the luxuries of being an online worker in this beautiful paradise.
Malta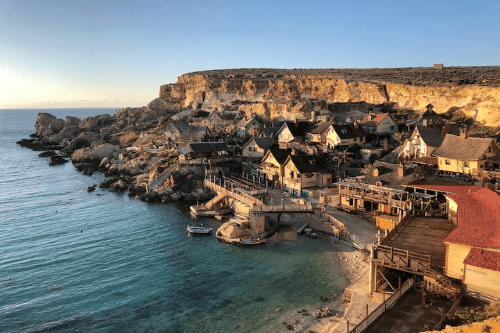 Experience the charm of a genuinely unique location by becoming a digital nomad in Malta – and don't worry, there are plenty of coworking spaces to help you stay productive!
With its picturesque countryside, rich culture, friendly people, and low cost of living, it's no surprise that Malta is quickly becoming a big favorite for digital nomads looking for an affordable option.
The country has also launched a special digital nomad visa program, making it even easier for remote workers and digital nomads to move there. The visa is called the Nomad Residency Permit, and this program is aimed at NON-EU remote workers and is valid for one year and can be renewed.
Not only is Malta one of the cheapest places for digital nomads compared to other expensive countries such as Spain or Dubai, but they have also created an attractive environment allowing digital nomads and freelancers to work and live hassle-free.
So if you're looking for a fantastic place that boasts a nationwide 5G network, has English as one of the official languages, and has over 300 days of sunshine a year, look no further than Malta, as it's one of the best places to live in Europe
Greece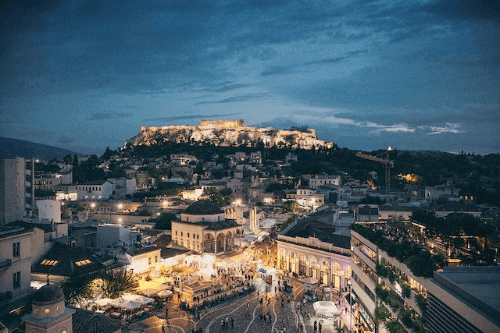 Discover the stunning beauty of Greece, with its breathtaking views and vibrant culture. With its endless coastline, ancient ruins, and delicious Mediterranean cuisine, it's no wonder why so many people love Greece. Plus, there are many options for digital nomad visas to make your stay even easier, such as 50% tax breaks.
And if you're looking for a hub for digital nomads in Europe, Greece is an excellent option. Greece offers something unique that other countries don't have: digital nomad visas.
Whether you're looking to get work done or explore the rich culture of this country, Greece is sure to provide an unforgettable experience!
Mexico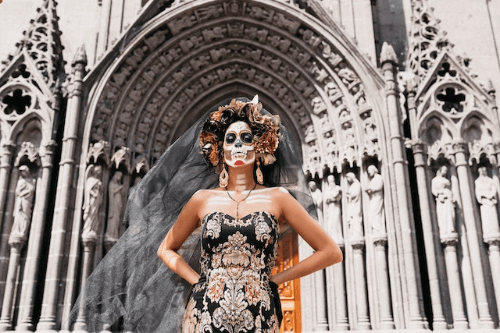 Mexico is an excellent spot for digital nomads, offering an array of attractions and opportunities to make your stay unforgettable!
Mexico has a 6-month-long tourist visa and a meager cost of living. They also offer a Temporary Resident Visa, which permits you to stay one year and can be renewed for up to another three years.
It also offers many digital nomad hotspots such as Mexico City, Guadalajara, Playa del Carmen, and Tulum; these locations have proven popular amongst every digital nomad looking for a place to create a digital nomad lifestyle.
Portugal
If you're looking for one of the best European countries to choose to settle in for a while, Portugal is one of the top contenders. With its low cost of living, sunny climate, and an increasing number of tech startups, Portugal is becoming increasingly popular with digital nomads.
The country has recently launched a digital nomad visa designed to make it easier for remote workers to move there. Portugal is also one of the most affordable places in Europe for digital nomads due to its lower cost of living compared to other countries on the continent.
As more countries offer visas tailored to digital nomads and remote working opportunities increase across Europe, Portugal is quickly becoming one of the most attractive spots for digital travel. Here's why you should consider Portugal if you're planning on being a digital nomad:
Low costs: One of Europe's most budget-friendly countries for digital nomads.
Incredibly hospitable people: Portuguese locals are known for their friendly hospitality towards foreigners.
Rich culture and history: Explore centuries-old architecture or take weekend trips around breathtaking scenery!
Excellent infrastructure: Easy access to transportation networks like airports makes getting around simple and stress-free.
Estonia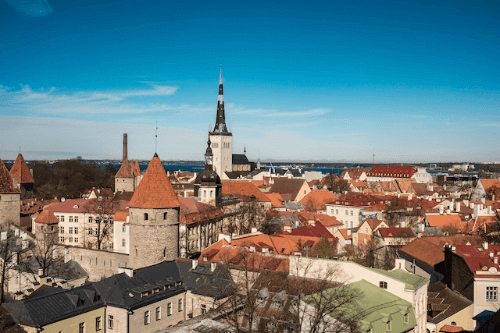 Consider Estonia if you're looking for a European country with low costs and plenty of cultures to explore! It's one of the best places to reside for an extended period. Estonia has much to offer: stunning architecture, abundant activities, and vibrant digital nomad communities.
In June 2020, Estonia created a one-year digital nomad and freelancer visa; it was the first country in the world to have an official digital nomad visa. This gives ample time for those to enjoy this spectacular country.
Furthermore, coworking spaces allow you to meet other nomads from different countries and build strong connections. Not all countries offer such visas per se, but Estonia's range of services makes it one of the most desirable countries that cater specifically to new digital nomads.
Croatia
Croatia offers a diverse range of attractions and opportunities to explore. From stunning beaches along the Adriatic coastline to the eclectic cityscapes of Zagreb, Croatia has something for everyone.
Here are just a few reasons why this country is becoming increasingly popular with remote workers:
The cost of living – While prices in cities like Zagreb may be steep, you can find great deals on rental apartments outside the capital. Plus, food and drink in Croatia tend to be much cheaper than other parts of Europe.
High-speed internet – Croatia offers excellent internet connectivity throughout its cities and towns, meaning digital nomads can stay connected wherever they go.
Beautiful scenery – Croatia's breathtaking landscapes make it an ideal destination for outdoor adventurers working remotely to soak up its beauty. From historic castles perched atop jagged cliffs to picturesque mountain ranges filled with lush forests, there's no shortage of places to explore here!
Thailand
Next on our list of countries is Thailand, offering a unique blend of culture and opportunity. With its stunning beaches, mouth-watering cuisine, and vibrant nightlife, Thailand provides a captivating experience for digital nomads.
From the north's jungles to Bangkok's bustling streets, the country offers many activities to explore. The cost of living in Thailand is also meager compared to other parts of the world – so it's easy to stretch your money further here.
Plus, most people speak English in touristy areas like Bangkok, making communication more straightforward. All these factors combined make Thailand one of the most unforgettable countries in the world and a place that nomads love!
Brazil
If you're looking for a unique place to explore and relax, Brazil is the perfect destination for 2023! It's an excellent place for digital nomads with its vibrant culture, lively people, and natural attractions. From the beautiful beaches of Rio de Janeiro to the bustling nightlife of Sao Paulo, there's something for everyone in this beautiful country.
Brazil has joined the list of countries with a digital nomad visa. It is a one-year visa that can be renewed for an additional year. The minimum monthly income required is US$1,500, and the process has to be done at a Brazilian embassy.
Most cities have excellent internet connections and plenty of coffee shops for remote work, making them some of South America's best digital nomad cities. The cost of living in Brazil is also quite reasonable compared to other countries, making it an ideal spot for budget-conscious digital nomads.
Whether drinking caipirinhas on Copacabana Beach or exploring the Amazon rainforest, Brazil has something for all adventurous travelers, so buy a high-quality backpack and get yourself over to this wonderful place!
Colombia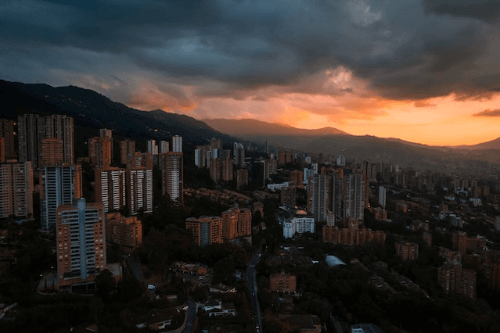 Experience the wonders of Colombia – from its stunning beaches to its vibrant culture – and create memories that will last a lifetime! With its immense natural beauty, modern cities, friendly people, and lively nightlife, it's no surprise that Colombia is becoming a hotspot for digital nomads.
Here are some must-see sights and experiences you won't want to miss:
Explore the ancient ruins of San Agustín in the south of the country – one of Latin America's most significant archeological sites.
Visit Medellín – Colombia's second largest city – one of the best digital nomad cities in South America, known for its parks, museums, galleries, and vibrant nightlife.
Relax on the Caribbean coast at Santa Marta; take a boat trip to explore nearby islands or spend time lounging on beautiful white sand beaches.
Trek through Tayrona National Park with its lush jungle landscapes and wild animals like ocelots and sloths.
Enjoy Cartagena: wander around this charming colonial city with cobbled streets lined with colorful buildings; admire street art; visit local markets; try traditional cuisine like ceviche or sancocho soup.
Whether you're looking for a life-changing experience or need an escape from everyday life, Colombia is worth considering as your next port of call!
Spain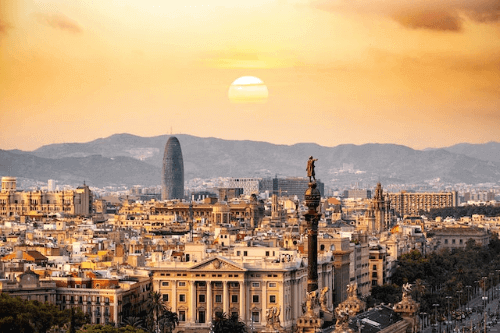 Spain is a stunningly beautiful country with diverse landscapes and abundant culture. It's the perfect place for those looking to explore and immerse themselves in a new way of life.
Spain has something for everyone, from bustling cities like Madrid, Barcelona, and Seville to rural villages between majestic mountains. Whether you're interested in exploring the cultural history of Spain or soaking up the sun on its pristine beaches, there's always something new to discover.
Home to some of Europe's best universities and thriving business hubs, there are plenty of opportunities for digital gypsies looking to work while enjoying all Spain offers. With its excellent infrastructure and world-class cuisine, it's no wonder why so many have chosen this country as their home away from home.