Everyday Ape is rapidly gaining a reputation for featuring some of the best articles in the web-o-sphere!
New blogs are written regularly and aim to give valuable insights about travel, health, tech, and the best new products on the market.
My name is Matt (AKA The Everyday Ape). I am the founder of the website.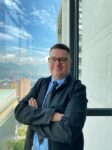 I'm a web designer and blogger. I'm originally from England and now live as a "digital nomad." I have visited over 40 countries and now live in beautiful South America.
I can be contacted in a number of ways:
I appreciate all of my visitors and always love hearing from you.