Looking for a free place to work remotely? Look no further! We've got you covered with a list of free places to work online when you can't make it to the office.
Whether it's a cozy coffee shop, a peaceful park, or a bustling library, there's a perfect spot just waiting for you. So stop googling "free places to work remotely near me," grab a drink, and enjoy our listicle.
So grab your laptop and get ready to find your new productivity oasis.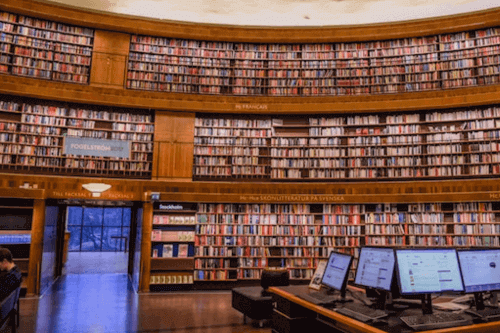 Key Takeaways
Museums and art galleries offer a unique and inspiring work environment.
Churches provide a peaceful and quiet space.
Public libraries offer a quiet and resourceful setting.
Parks and outdoor spaces provide a refreshing change of scenery and access to amenities.
Table of Contents
Free Places to Work Remotely near Me (Most of them anyway…)
Museums and art galleries can provide a quiet and inspiring environment where you can focus on your tasks.
Churches also offer a peaceful atmosphere that can help boost your productivity.
Shopping malls may have designated seating areas or cafes where you can set up your workspace.
Gyms often have wifi access and comfortable seating areas where you can get work done in between workouts.
Additionally, public libraries are known for their serene ambiance and free wifi, making them an ideal choice.
Museums and Art Galleries
Museums and art galleries can be great alternative workspaces for those looking for a quiet and inspiring environment. These local businesses offer unique spaces while surrounded by creativity.
Here are four reasons why you should consider working in a museum or art gallery:
Courtyard: Many museums and art galleries have beautiful outdoor courtyards to set up your workspace. Enjoy the fresh air and natural surroundings while you focus on your tasks.
Meeting rooms: Some museums offer meeting rooms that can be reserved for work-related discussions or presentations. Take advantage of these professional spaces to collaborate with clients or colleagues.
Lounge areas: Museums often have cozy lounge areas where you can relax and take a break from your work. Use this time to recharge and gather inspiration from the artwork surrounding you.
Coffee shops: Many museums have their own coffee shops or cafes, providing convenient access to caffeine and snacks without leaving the premises.
Next time you need a change of scene, consider heading to a museum or art gallery as your alternative coworking space. You'll be able to enjoy the unique atmosphere while being productive in a stimulating environment.
Churches
Churches can provide a peaceful and serene environment for individuals seeking an alternative working zone. If you're tired of the usual hustle and bustle of the local library or coffee shop, consider trying out a church as your quiet workplace.
Many churches offer free wifi, making it easy to stay connected while enjoying the tranquility of the space. With its peaceful atmosphere and lack of distractions, a church can be an ideal work environment for those who need peace to be productive.
Think of it as your dedicated coworking space where you can focus on your tasks without interruptions. So next time you need a quiet and productive space, consider giving your local church a try.
Shopping Malls
Shopping malls can be a bustling and vibrant environment for individuals looking to work or study outside traditional spaces. With their wide range of amenities and facilities, malls offer a unique option for those who want to escape the isolation of working from home. Here are some reasons why shopping malls can be a good option for work:
Food Court: Grab a quick bite from the variety of food options in the mall's food court.
Power Outlets: Malls usually have plenty of power outlets to charge devices and stay connected.
Comfy Seating: Find a comfortable spot in one of the seating areas throughout the mall to set up your workstation.
Wifi Hotspot: Most malls offer free wifi, allowing you to stay connected.
Gyms
Many gyms nowadays offer free places to work remotely near their fitness facilities, allowing you to work somewhere else other than your home office. This is especially beneficial if you are in a productivity slump or want to change your environment.
You can get work done while sitting at a desk near the gym floor and have access to all the gym's facilities. Whether taking a break for a quick workout session or using the gym's wifi and desk rentals, working at the gym provides increased productivity and improved well-being.
Public Libraries
Public libraries offer a quiet and peaceful environment where you can work on your projects while surrounded by a wealth of knowledge.
They are great places to get some work done. With their comfortable seating and ample desk space, libraries provide the perfect setting to get down to work. Plus, most libraries offer free wifi, allowing you to stay connected while focusing on your tasks. libraries are a great option for a quiet environment or a more intellectual atmosphere.
Cafes
If you're looking for a cozy and inviting atmosphere, cafes offer the perfect blend of caffeine and productivity. Cafes are free, providing a spot to work while enjoying a warm cup of coffee or tea.
Here are some reasons why cafes make excellent spots:
Wifi Hotspot: Most cafes offer secure wifi connections, allowing you to stay connected and productive throughout your work session.
Outdoor Seating: Some cafes provide outdoor seating options, allowing you to enjoy fresh air and natural light while completing your tasks.
Great Free Atmosphere: With their comfortable chairs, ambient music, and aromatic beverages, cafes create an environment that fosters focus and creativity.
So next time you need a different scene from your home office or want to escape the distractions of working from a public space like a library, consider heading to a nearby cafe.
Privately Rented Offices
Are you looking for a more professional and dedicated workspace? Privately rented offices provide the privacy and amenities you need to focus on your work. Unlike hotel lobbies or coworking spaces, privately rented offices offer a quiet and uninterrupted environment where you can be productive. You can easily find desks near your location by renting out an unused desk from someone with extra space.
These offices have comfortable chairs and tables, ensuring you have everything you need for a productive workday. Some privately rented offices also host networking events, allowing you to connect with other professionals in your field. Say goodbye to crowded waiting areas and noisy coffee shops – rent a privately rented office today!
| Pros | Cons |
| --- | --- |
| Privacy | Higher cost compared to other options |
| Quiet environment | Limited access to community |
| Amenities available | No shared resources like in coworking spaces |
Swimming Pools
Dive into a refreshing swim at the pool while enjoying a tranquil atmosphere. As you bask in the warm sunlight, imagine yourself surrounded by lush greenery and the sound of gentle water lapping against the pool's edges.
Picture yourself sitting at a cozy café table with your laptop, taking advantage of the free wifi. The poolside provides the perfect space to work outside, away from the confines of a traditional desk.
With its peaceful ambiance and inviting surroundings, it's no wonder that pools are becoming some of the best places to work remotely for many remote workers looking to get out of their usual environment.
So grab your laptop, find a comfortable spot by the pool, and dive into productivity amidst this idyllic setting.
Parks
Explore the expansive green spaces of parks, where you can find plenty of shade, open areas for picnics, and walking paths to enjoy a break from your usual work zone. Parks offer a refreshing and tranquil environment to work. With their serene atmosphere and natural surroundings, they provide the perfect backdrop for increased focus and creativity. Take advantage of the peaceful ambiance by setting up your laptop on a park bench or spreading out on a blanket under a shady tree.
| Park Amenities | Available Activities | Facilities |
| --- | --- | --- |
| Playground | Picnicking | Restrooms |
| Sports Fields | Walking | Water Fountains |
| Dog-Friendly Areas | Nature Trails | Outdoor Seating |
Incorporate some physical activity into your day by taking breaks to stroll along the walking paths or exploring nature trails. Enjoy the fresh air and sunshine while staying connected with nature in these beautiful outdoor spaces. So pack up your laptop, grab a coffee, and head to your local parks for a refreshing workday experience.
Tourist Resorts
Tourist resorts offer a luxurious and relaxing environment to complete your work. These resorts not only provide stunning views and comfortable accommodations but also offer excellent facilities.
Whether looking for a peaceful spot near the beach or amidst lush greenery, tourist resorts have got you covered.
Many resorts now understand the growing trend of digital nomads and are adapting their spaces accordingly. With the increasing demand for coworking spaces, some resorts have transformed their rooms or designated specific areas as shared workspaces. You can easily find coworking spaces within these resorts through platforms like Sharedesk, Deskcamping, or Peerspace.
So why not take advantage of this opportunity? Instead of being confined to your home office or local coffee shop, consider spending a day working at a tourist resort. It's a great way to enjoy beautiful surroundings while being productive.
Airport Lounges
If you're at the airport, why not use the lounges? They are the perfect place to take a break from your home office and be productive while waiting for your flight.
Here's why:
Comfortable seating: Airport lounges offer cozy chairs and sofas where you can sit back and focus on your tasks without distractions.
Quiet atmosphere: They provide a peaceful environment, making them ideal for taking phone calls or working on important projects.
Amenities: Many offer free wifi, charging stations, and even complimentary snacks and drinks, ensuring you have everything you need to stay productive throughout the day.
So next time you find yourself at the airport with some time to spare, head over to an airport lounge and make it your temporary workspace for the day.
Coworking Offices
Coworking offices provide a collaborative and professional environment for individuals to work on their projects. These spaces are perfect if you're looking for a remote workplace. With the rise of COVID-19, many people have transitioned to working from home (WFH), but sometimes we need a change of location. Coworking offices offer that change while ensuring a safe and productive atmosphere.
To help you find the ideal coworking office near you, Google Maps is your best friend. Type in "coworking offices," followed by your location, and voila! You'll have a list of options at your fingertips. Even better, many coworking offices offer first-time users free trial days or discounted rates.
To give you an idea of what these spaces have to offer, take a look at this table:
| Amenities | Features | Benefits |
| --- | --- | --- |
| High-speed wifi | Private workspaces | Networking opportunities |
| Conference rooms | Complimentary coffee | Professional atmosphere |
| 24/7 access | Printing services | Flexibility in schedule |
Hotel Lobbies
Here are four reasons why you should consider hotel lobbies as a "go-to" to work online:
A welcoming atmosphere: They often have cozy seating areas, soft lighting, and pleasant decor that make you feel at home.
Professional amenities: Free wifi, power outlets, and complimentary coffee or tea can be used.
Minimal distractions: Unlike working from someone else's home or a bustling coffee shop, hotel lobbies offer a quiet environment where you can focus on your tasks without interruptions.
Variety of locations: Hotels are scattered across cities and towns, making finding a convenient workplace spot easy. Check out sites like local travel guides or hotel directories to discover the best options near you.
So next time you find yourself procrastinating with a deadline looming, consider heading to a nearby hotel lobby for an inspiring and productive work session.
Bookstores
If hotel lobbies aren't your cup of tea, why not try working from a bookstore?
Imagine being surrounded by shelves filled with books, the aroma of freshly brewed coffee wafting through the air, and the quiet hum of people lost in their own literary worlds. You could easily set up shop at a cozy table or find a comfortable chair tucked away in a quiet place in a corner.
Plus, some bookstores have designated workspaces with charging stations and free wifi. If you're unsure where to start, you could also talk to local bookstore owners or staff members who might be open to accommodating remote workers like us.
Community Recreation Centers
Another option for finding a space to work in your community could be the local recreation center. If you dream of working without getting distracted and are willing to rent a space, community recreation centers can offer everything you need. With ample space, these centers provide an ideal environment for working.
Restaurants
Restaurants can provide a convenient and comfortable space for you to work while enjoying a meal or a cup of coffee. There are a ton of benefits to working in a restaurant.
You can take a break from your usual working area and find inspiration in the bustling atmosphere around you. Plus, you don't have to worry about making lunch or grabbing that much-needed afternoon pick-me-up – just order from the menu and enjoy!
Whether you prefer a quiet corner booth or the lively energy of the bar, restaurants offer different seating options to suit your working style. And it's not just freelancers who benefit; business travelers can also take advantage of these spaces while on the road, finding solace in their familiar cup of joe while getting work done.
Pubs
Pubs can offer a unique and lively atmosphere for individuals looking to work while enjoying a drink or two. With their cozy interiors, ambient lighting, and the buzz of conversations, pubs can provide an inspiring setting for work. Imagine sitting at a table by the window, sipping your favorite beverage while typing away on your laptop.
The gentle clinking of glasses and occasional laughter from other patrons create an energetic backdrop that fuels your creativity. Plus, many pubs offer free wifi, making staying connected even more effortless. So why not trade in your usual coffee shop for a pub? It might just be the change of environment you need to spark new ideas.
| Pros | Cons |
| --- | --- |
| Lively atmosphere | Potential noise distractions |
| Cozy interior | Limited food options |
| Inspiring setting | Availability of seating |
| Free wifi | Possible lack of electrical outlets |
| Variety of drinks available | Limited opening hours |
College Campuses
College campuses offer diverse working spaces catering to students' needs and preferences. These spaces provide an ideal environment for studying or working on projects. Here are some reasons why college campuses make great work areas:
Quiet Libraries: College libraries usually have study areas where you can find peace and focus on your tasks.
Bustling Student Lounges: Student lounges are perfect for you if you prefer a more social atmosphere while you work. You can collaborate with peers or enjoy the lively ambiance.
Inspiring Outdoor Seating Areas: When the weather is nice, why not take advantage of the beautiful outdoor spaces available on campus? Fresh air and natural surroundings can boost creativity and work ethic.
What National Businesses Have Free wifi and Are Good For Working Remotely?
Bookstores like Barnes & Noble offer free wifi access and a quiet work environment, making them ideal for remote work and enhancing productivity. With their nationwide availability, you can easily find a Barnes & Noble near you to set up your temporary office.
The free wifi lets you stay connected and efficiently get your work done. Plus, the quiet atmosphere provides a conducive space for concentration and focus. Whether you need to study, write, or attend virtual meetings, bookstores like Barnes & Noble can offer the perfect setting for productive remote work.
So grab your device, head to your nearest bookstore, and take advantage of their free wifi and peaceful environment.
Conclusion
So there, you have a variety of free places to work remotely near you.
From libraries to coffee shops, parks to community centers, and even gyms and resorts for those looking to mix work with exercise.
But remember, finding the perfect work area is like finding your favorite pair of jeans – it may take some trial and error.
Just like how different jeans fit differently on other people, each workspace offers its unique atmosphere and benefits.
So go out there and explore these options until you find the perfect fit for you!