Everyday Ape is a participant in the Amazon Affiliate advertising program which means that we may get a small commission on any purchases made from our links.
Whether this is your first holiday or you're a well-traveled globetrotter, it's essential to have a checklist of the things you should pack. Here is our comprehensive checklist for what to take on holiday for a week.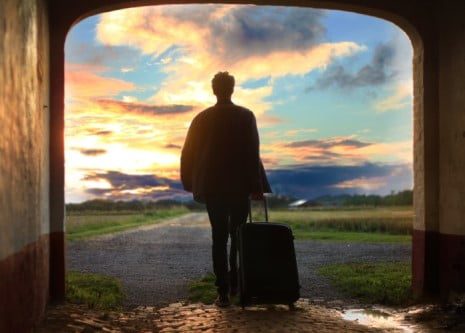 It might be a good idea to bookmark this list so that you can refer to it a week or two before you intend to leave.
Our list covers the travel essentials you may need to enjoy your trip and our recommendations for the best products in each category.
What to take on holiday for a week.
Choose the right luggage
Rolling Luggage – Luggage on wheels is probably the best option for most trips. There's no need to break your back carrying a cumbersome backpack or uncomfortable duffel bag if you're traveling to a relatively modern city. If you are taking a more adventurous trip to somewhere with no roads or sidewalks, you'll probably need a conventional backpack. If you are unsure about the terrain in your intended destination, a wheeled backpack may be a good compromise.
Carry-on luggage – Always travel with a carry-on bag or backpack if you can. This means that you can keep your most valuable items and anything you may need for the flight, close to hand at all times. It's also sensible to carry a change of clothing in your hand luggage in case you need to freshen up before you arrive at your hotel.
Name tags for your luggage – Those sticky airline tags can easily be lost or even could be printed with incorrect info so attaching your own secure luggage tags is a good idea. Bear in mind that you want to distinguish your luggage from all the others on the carousel so choose tags that stand out and can be seen from a distance.
A day bag –  You may well be able to use your check-in bag as your day-trip bag. Don't get stuck using plastic shopping bags as this will totally trash your cool image. A cheap, lightweight backpack that can fit a few items for the day can be a worthwhile investment and it will keep your gear safe.
Travel Medication
Along with any prescription medicines you usually take, there are a few other items that could save you a whole heap of discomfort on your vacation. You may be able to find all these items when you arrive but if you aren't sure, you can grab them before you embark on your trip.
Malaria prevention – If you are visiting a high-risk country.
Over-the-counter medicines – Anything that you take on a daily basis should come with you.
Antidiarrheal medication – Enough said
A decongestant or antihistamine – For emergencies
Motion sickness medication – If you often get sick when traveling.
Pain relief medicine – In case of injuries or fevers.
A mild laxative – This might come in useful if you will be eating food that your body isn't used to.
An antacid – Much the same reason as a laxative.
Antiseptic cream – For any little cuts or scratches.
A top-quality sun cream – This should be in your day bag at all times. In tropical countries, you can get sunburnt in as little as 20 minutes.
What should go in your toiletry bag?
Toothbrush & a small tube of toothpaste
A small roll-on (or can) deodorant
A razor & a small tube of shaving gel
Wet wipes  – They come in very useful so make sure they are with you at all times.
Your contact lenses & solution – And a spare pair of specs if you are as blind as a bat!
Condoms – These should be on every single guy's travel checklist. You never know your luck when you hit the open road. Always be prepared for a bit of intimacy.
What clothing to pack for a week
Every man has differing clothing standards so there is plenty of wiggle room for you to make your own clothing checklist. But if you want our advice, here's our list of what we suggest for what you should take on holiday for a week:
11 X sets of underwear –  11 pairs of socks and boxers/briefs. You will have one clean set every day and a couple of spares.
3 pairs of shorts/pants – Depending on the climate of your destination. If it may get chilly, always have a pair of jeans on standby.
8 X shirts / T-shirts – Again use your judgment based on the climate. Make sure you have at least one warm jumper or cardigan if it gets really cold.
1 X shoes/trainers + sandals – In addition to your normal footwear, a pair of sandals can come in handy. There's nowhere you can't go in a pair of decent sandals and they could save your new trainers from getting ruined.
1 X raincoat – Often forgotten, a decent quality raincoat is worth its weight in gold! It saves carrying around a bulky umbrella and takes up virtually no space in your luggage.
Keeping your documents safe
Debit/credit cards – These should be kept in a good quality RFID-blocking wallet.
Passport – The most important travel document you possess should be kept in a travel belt or a secure pocket on your carry-on bag. This should be easily accessible at all times.
Driving Licence – Even if you don't plan to drive, your driving license is a valid form of identification. It saves having to always carry your passport with you.
Email all documents to yourself – Not something to pack but a useful tip is to photocopy/scan all of your travel documents. If the worst happens and you lose something, having copies in your email account will save you a lot of time and trouble.
What you need in your carry on
MP3 Player – While not essential, having access to tunes can make your vacation a lot more fun.
Headphones – Whether you will use them for your phone or MP3, it's better to take the smallest and lightest earbuds you can find.
Sunglasses – A good-quality pair of polarized sunnies should be on every guy's packing list.
A good book – There is often a lot of waiting time with international travel and a good read can be great for killing time.
Pen & paper – Don't get caught out by something so simple as a pen and a small pad. Useful for so many reasons, keep these items easily accessible.
Travel security items
Money belt – There are tons of options to keep your valuables safe. It doesn't matter which one you choose as long as it has a secure locking mechanism and can be hidden from sight.
Travel lock – Why wouldn't you want to lock your bags? A small padlock can be used on your check-in luggage and avoids the chance of some shady character slipping something into your luggage!
Other travel items that you shouldn't forget
Adapters & Chargers – Make sure you take a universal adapter to charge your devices. A little bit of planning will ensure that you know which kind of adapter is suitable for your destination country.
P.M.A – You can't pack it but P.M.A (Positive Mental Attitude) is probably the most important thing to take with you when you go on holiday. Travelling can be the most amazing experience but it can also be stressful and scary at times. Remember that a smile will get you a lot further than a frown.
If you enjoyed this article, you might also like to learn some tips for flying for the first time.