If you're looking for excitement, want to meet cool people from across the globe, or are even on the hunt for lust and love, we hope you'll enjoy our list of the best places to travel alone for men.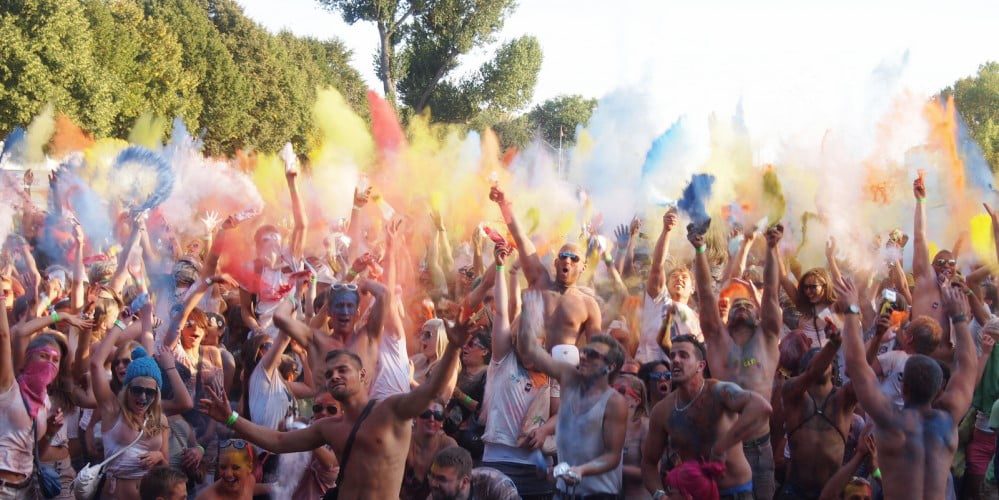 This single guy's travel guide is your first port of call if you're going to be "flying solo" on your next vacation and struggling to come up with ideas for where to head.
Whether you've just come out of a relationship, prefer your own company, or want to live in the moment without anyone judging you, there are many reasons for taking a vacation on your own. For many guys, there's nothing quite like waking up in a hotel room in a foreign land and having no one to answer to! Just set your own itinerary, be your own compass, and get stuck into the action!!!
This list features our favorite ten spots worldwide for holidays for single men.
As you would expect, our choices are based on just how much fun to have, emphasizing nightlife and girls. We've tried to include many places, from beautiful beaches with sun-drenched bars to exciting cities with the latest E.D.M. venues.
Table of Contents
The best places to travel alone for men
Ibiza – Spain
Our pick of the best destinations for solo travel for men is the idyllic island of Ibiza. It is located in the Mediterranean Sea off the east coast of Spain. It's 150 km from Valencia and the third largest of what are known as the Balearic Islands.
Famous for its 24-hour parties and hosting some of the world's largest clubs, this Spanish island has become a mecca for those who want to let their hair down and party hard.
The vibe ranges from glamorous to hippy as both backpackers and the jet-set-elite party in the sunshine and well into the night. The Ibiza party season usually runs from the last May weekend until the first October weekend. The biggest and best parties are held during the first and final weeks.
On to the girls – you'll find a range of women visiting Ibiza, from the classiest and most beautiful women of Europe to the trashiest and dirtiest girls of England. It's a real melting pot of humanity that is wild and crazy "all" of the time!
So if you're looking for total hedonism, easy European girls, and beautiful beaches, why not join the crowd of up-for-it party-goers that return to this excellent party destination year after year?
FURTHER INFO – Ibiza Spotlight
Bangkok – Thailand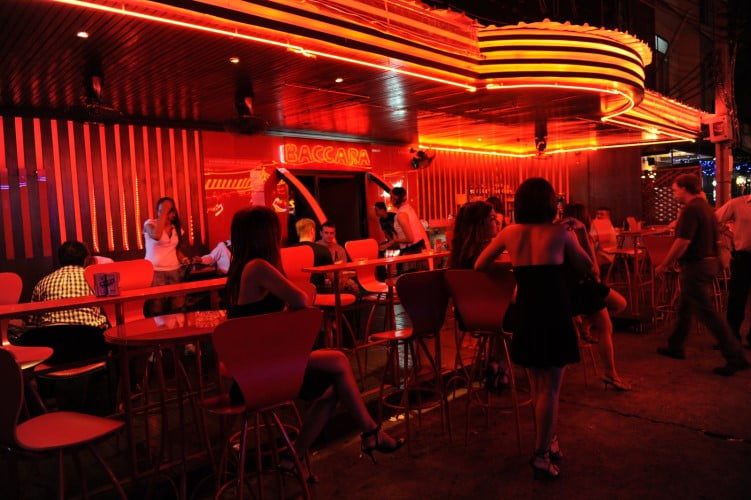 If you're after somewhere a little more exotic, why not jump on a plane heading to the capital of Thailand (one of the top Asian countries for digital nomads)? Bangkok has been on many single guys' holidays for decades, and the vibrant and beautiful city continues to get more popular.
Bangkok is a difficult city to describe. It combines the new and the old with a distinct mix of culture, grace, and high energy. It is a thriving metropolis that never seems to sleep and never fails to raise a smile.
So onto the nitty-gritty, Bangkok is a prime place to meet hot women from all over the country. The girls are extremely friendly and seem to be everywhere you turn! In most bars in the city, there will usually be ladies who are only too happy to sit and chat with you. However, take care as many of them will be "working girls" and may want money for the pleasure of their company.
Bangkok is also a central travel hub for some other notable cities in Thailand. From here, you can book trips to anywhere in Thailand. One of my favorite places is the island of Koh Phangan (famous for the Full Moon Parties). Another option is to explore the mountains and jungles around Chiang Mai.
If you want to get a little sleazy, the city has strip joints, complete-service massage parlors, and Go-Go bars. In fact, not many cities compete with Bangkok for sex tourism, so don't forget those rubbers!
Apart from the seemingly endless string of pick-up joints, the city also hosts some incredible nightclubs, including Club Insanity on Sukhumvit Soi 11 and the massively popular Route 66 nightclub on Royal City Avenue, which rarely disappoint single male travelers.
FURTHER INFO – Lonely Planet
Amsterdam – Holland
One of the first things that come to most minds when you mention Holland is the liberal and friendly society, so it's no shock that so many single guys love it here.
While parts of the city feel risky and a little seedy, Amsterdam is an extremely safe city. Probably the most famous part of the city is the Red Light District. This area is just as much a tourist attraction as the Statue of Liberty in New York or the Eifel Tower in Paris and is much more interesting.
Even if you forego the paid sex services, the city has many excellent bars, clubs, restaurants, and live shows to entertain you. And if all that's not enough, how about smoking a little weed in one of the many coffee shops?
Coffee shops are a huge draw for many international tourists, with Dutch tourism figures suggesting that 25-30 percent of people who visit Amsterdam indulge in a smoke. Amsterdam has hundreds of coffee shops, each with different vibes and styles. They sell weed, hash, ready-made joints, and often edible marijuana treats.
Finally, Amsterdam's beer scene is a massive draw for many men. The city features an impressive array of bars/pubs to cater to every drinking preference perfectly.
FURTHER INFO – I Amsterdam
London – U.K
London is an incredible city for guys who prefer more urban adventures. It's the largest city in the E.U. (at the time of writing) and the largest predominantly English-speaking city in the world after New York City.
The capital of the U.K. is packed with enough history and culture to keep any guy busy for weeks. And if you have the cash, it has some of the world's finest designer stores around Oxford Street and Carnaby Street.
London is also one of the most incredible cities in the world right now. It has thriving fashion, music, and theater scenes and some of the best restaurants in the world. And don't forget the pubs – there are over 3,500 bars in the city, each with its unique charm and atmosphere.
As for the nightlife, London has a wicked selection of clubs. Many of these are open all night to cater to the thousands of ravers always up for a party (no matter what day of the week).
Clubs open and close all the time in London. Some great places to check out are "Xoyo" and "Cargo" in Shoreditch and "Phonox" in Brixton. I have partied worldwide and find London hard to beat in terms of atmosphere and energy. Patrons are very friendly and welcoming, and the girls are certainly not backward in coming forward!
FURTHER INFO – Visit London
Rio de Janeiro – Brazil
Brazil is truly a single guy's nirvana for the best vacation destinations for single guys. With stunning beaches, "off the hook" nightlife, and some of the most beautiful women on the planet. Rio has everything a male solo traveler could wish for!
Also known as the Marvelous City, Rio is Brazil's most famous city. One of its huge attractions is its all-year-round tropical climate.
The city of Rio oozes energy and life, which builds to a crescendo during Carnival. First held in 1723, Carnival saw around 2 million people involved in the five-day party.
One of the biggest draws for Rio is its famous beaches, including Ipanema and Copacabana. Another famous sight is the iconic Sugarloaf Mountain (which you can visit by cable car). But the primary reason single guys flock here is the epic nightlife.
Always welcoming, the Brazilian people have a zest for life, and nowhere is it more apparent than in the bars and clubs of Rio. A great place to check out if you get the chance is Circo Voador. A nightclub that features some of the top Brazilian musicians and sometimes global DJs and musicians. Circo Voador can be found in the district of Lapa.
Lapa continues to be a focal point of most of the after-dark fun, with many bars and restaurants to cater to every taste. However, Lapa can get pretty sleazy late at night with many street walkers (many of whom are actually ladyboys).
FURTHER INFO – Wikitravel
Las Vegas – U.S.A.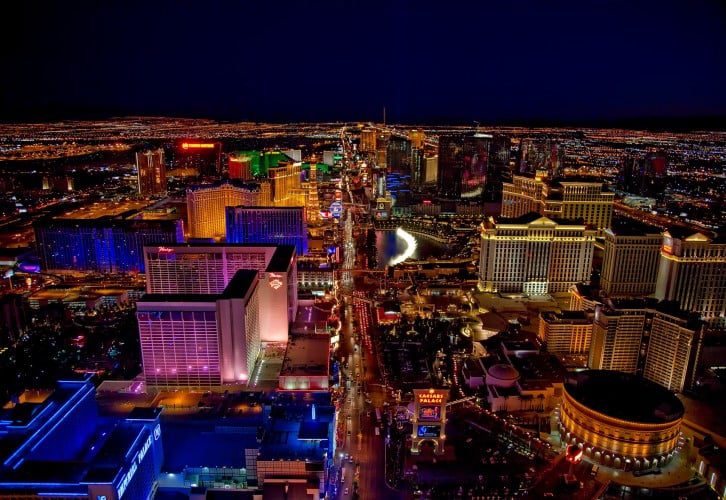 Of course, Vegas had to be on this list of the best places for men to travel alone. Las Vegas, a long-time favorite for bachelor parties, is best known for its raucous nightlife, mega-casinos, and exotic-dancing bars.
Las Vegas is home to some of the best hotels in the world, including the Aria, Bellagio, and M.G.M. Grand Hotel. It also has some of the finest eateries, such as Estiatorio Milos, Cut, and Bardot Brasserie.
Of course, it isn't called "Sin City" for nothing! It's an easy place to get into trouble, but that's just part of its charm. People come to Vegas to let loose and party hard. When you land in Nevada's Mojave Desert, it's time to "party like a rock star" and stop when the money runs out.
There are day parties, pool parties, concerts, sporting events, shows, and so on, so don't plan to sleep much. And when the sun goes down, everyone comes out to play. This usually culminates with a visit to one of the incredible nightclubs, such as X.S. at the Wynn Encore or 1OAK at The Mirage.
FURTHER INFO – Tripadvisor
Goa – India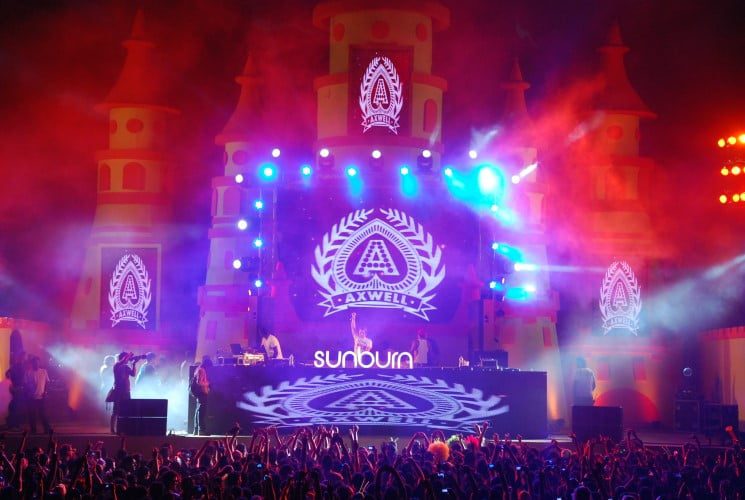 You probably didn't expect to see India on our list of holidays for single men, but it's a real "diamond in the rough!"
Goa is a state on the west coast of India, and it has been a travelers' favorite for decades. Geographically, Goa's 50+ beaches cover about 78 miles of its coastline. Beaches start at Polem Beach in the South and finish at Querim Beach in the North.
Goa has a little bit of everything. There are plenty of water sports if you're active and wild drug-fueled parties if you're a bit of a night owl. Prices are ridiculously cheap, with beers costing not much more than a dollar or two.
Single guys can quickly meet other travelers in Goa, as most visitors are chilled out! There is an abundance of marijuana and party drugs that go hand-in-hand with the trance music so often played on the sound systems of Goan bars and outdoor parties.
Single guys can't fail to fall in love with the tropical beaches. Many water sports are available, including jet skis, banana boats, para-gliding, etc. But the main attraction on the shores is the parties, often headlined by famous DJs from India and beyond.
FURTHER INFO – Lonely Planet
Mykonos – Greece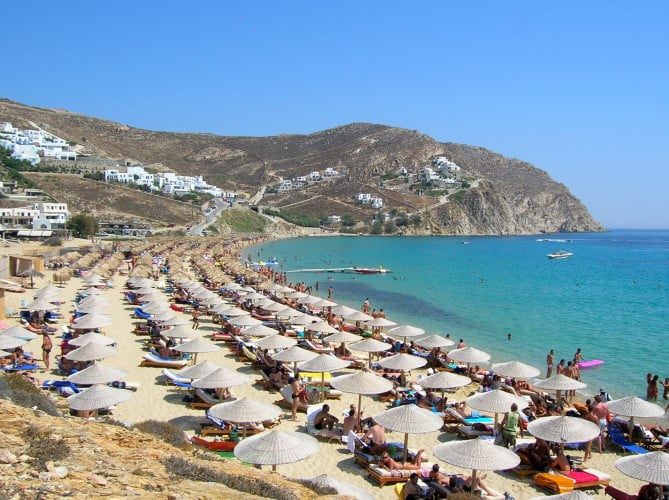 If you're looking for a hedonistic party destination in Europe, Mykonos is similar to Ibiza in many ways but much cheaper. It is undoubtedly one of the best trips for single men.
Known as a "playground for adults," this famous cosmopolitan island in Greece is renowned for drinking, dancing, and getting laid. Mykonos receives more than its fair share of party animals. Some can be seen dancing naked without a care in the world on the naturist beaches of the island.
Dancing usually starts mid-afternoon on the pristine beaches and then moves to the clubs. Things don't quiet down until the sun comes up. Then it's a matter of finding a hot girl and heading back to your hotel before repeating the whole process again!
The season runs from June to September, but August is the best time to visit. This is when there are the most visitors to the island. It's pretty wild this month with a mix of celebrities, students, and bachelor parties.
If you should need a break from the craziness, lots of watersports are available. There's surfing, sailing, windsurfing, and paragliding. And if you need to unwind, Mykonos has 25 sugar-white sand beaches.
There's also an incredible dining scene in Mykonos Town. You'll find fantastic fusion restaurants, traditional tavernas, and plenty of fast food joints here.
FURTHER INFO – Lonely Planet
Bali – Indonesia
Despite what you may have heard, there are still untouched corners of the magnificent island of Bali.
For single dudes who want to hook up and get down, Kuta is the place to head for. When staying in or close to Kuta, you'll soon get into the rhythm of the place. Eat, drink, rave, sleep, and repeat for as long as your body can keep up!
There are more bars than you can handle, and each has its own atmosphere and vibe. When looking for loud and late drinking places, you should head to the streets around Poppies I and II. Some spectacular clubs, including Potato Head and Ku De Ta, are a short taxi ride away if you're after something more upmarket.
If you're after a tripped-out holiday, local Balinese magic mushrooms are available in a few bars on the island. Watch for signs advertising "space shakes" or "mushroom shakes" on billboards.
The rainy season in Bali goes from October until March, so it's best avoided around this time. The best time to find cheap flights is between September and December. But the most fun is to be had during the dry season, which runs from April through October.
A final note is that Bali is also one of the best places to learn how to surf. So grab a board and your best swim shorts and enjoy this tropical paradise.
FURTHER INFO – BALI-INDONESIA.COM
If you enjoyed this article, you might also like to read tips for flying for the first time.
A big thanks for the images Foam everywhere! Flickr photo by Amnesia – Ibiza shared under a Creative Commons (BY) license, Mighty Travels [CC BY 2.0 ], via Wikimedia Commons, © User: Colin and Kim Hansen / Wikimedia Commons, Sergio Luiz (Flickr) [CC BY 2.0 ], via Wikimedia Commons, Pdmsunburn [CC BY-SA 3.0 ], from Wikimedia Commons, By Richard Hubatka (Picasa Web Albums [1]) [CC BY-SA 3.0 ], via Wikimedia Commons, Holi-Party 40 Flickr photo by Zeitfixierer shared under a Creative Commons (BY-SA) license, Bar Girl Flickr photo by Milosz1 shared under a Creative Commons (BY) license.