We've compiled a list of great public places to work remotely, away from the confines of traditional office spaces. From bustling coffee shops to serene libraries, these locations offer the perfect blend of energy and tranquility.
So if you're tired of the same old office routine and looking for an inspiring environment to boost your productivity, look no further!
Get ready to unleash your full potential as we reveal the secret places to work remotely in style.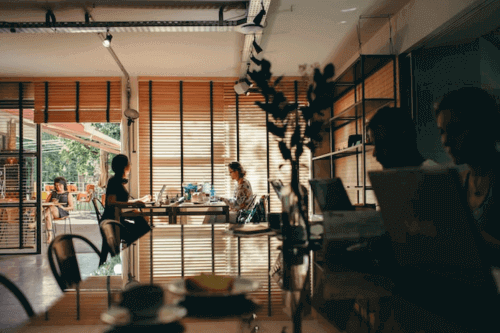 Key Takeaways
Dedicated workspaces like coworking spaces, public libraries, hotels, and shopping malls provide a professional work environment with high-speed internet and ample desk space.
Informal workspaces like coffee shops and restaurants/bars offer a cozy atmosphere and delicious food and drinks, perfect for a more relaxed work setting.
Outdoor workspaces such as public parks and beaches provide a tranquil environment and the opportunity to enjoy fresh air and nature while working online.
Unique workspaces like gyms offer the chance to blend work and leisure, allowing digital nomads to stay productive and fit.
Table of Contents
Great Public Places to Work Remotely – A List of Remote Work Locations
We have compiled a list of great public places to work from your laptop.
Some popular options include coworking spaces, coffee shops, public libraries, hotel lobbies, and even restaurants or bars.
These locations offer a variety of environments to suit different preferences and provide a productive atmosphere for remote work.
Whether you prefer the buzz of a coffee shop or the quiet ambiance of a library, there is something for everyone on this list.
Coworking Spaces
Coworking spaces offer a vibrant and collaborative environment for remote workers. Their cool design and modern amenities provide the perfect backdrop for productive work sessions.
These spaces boast high-speed internet and free wifi, ensuring you always stay connected. Additionally, on-site cafes usually allow you to fuel up with your favorite brew while tackling your tasks.
Compared to traditional office spaces or working from home, coworking spaces offer a refreshing change of scenery and eliminate distractions. They provide a professional work environment that fosters creativity and productivity. And a fun fact, many entrepreneurs now use coworking spaces as their business address.
Whether you're looking for a break from the solitude of working from home or seeking an alternative to crowded cafes or public libraries, this coworking space is the ideal choice for work.
Coffee Shop
Grab a cup of your favorite brew at the on-site coffee shop and enjoy the cozy atmosphere while you work remotely. Coffee shops are an excellent option for remote workers looking to escape their usual office environment.
With free wifi readily available, these establishments provide a convenient and productive space to get work done. The buzz of activity around you can enhance your focus, especially if you thrive in a bustling environment. Additionally, working outside your home or office can boost creativity and motivation.
Coffee shops offer a quiet place to concentrate without distractions, allowing you to dive deep into your tasks. So why not take advantage of coffee shops' welcoming ambiance and delicious beverages?
It's time to find your favorite spot and harness the power of these great public places to work remotely.
Public Library
Looking for a quiet and productive space to work? Head over to the public library and take advantage of its tranquil environment.
Libraries offer great options for remote workers seeking a quiet area to work. These public spaces provide an ideal setting for those who desire peace in their work environment.
With free wifi and comfortable seating, the library is a great place to work on your projects or study for exams. Some libraries offer amenities such as free coffee, creating a welcoming atmosphere that fosters productivity.
So next time you need a change of scenery from your usual cafe, consider heading to the library for a peaceful and energizing workspace.
Hotel or Hotel Lobby
When you need a quiet and productive space to get some work done, consider heading to a hotel or hotel lobby.
Hotels can be a remote workers' paradise, offering comfortable seating, ample desk space, and a professional environment. Many hotels also have conference rooms you can reserve if you need a more private setting for meetings or presentations.
Hotel lobbies are great workplaces because they often offer free wifi and a relaxed yet elegant atmosphere. Whether traveling or looking for a change of scenery, hotels provide an excellent option for remote workers.
So next time you must escape your home office, why not try working from a hotel?
Restaurant/Bar
If you're looking for a more vibrant and social environment, heading to a restaurant or bar might be just what you need. These establishments often have cozy corners where you can set up your laptop and get some work done. Plus, you'll have delicious food and refreshing drinks.
In cities like NYC, countless local public spots serve as excellent options for remote work. Trendy cafes, bustling bars, and coworking spaces are all great places to work remotely. They offer amenities like ample seating, strong wifi connections, and community and networking opportunities.
So whether you prefer the comfort of a hotel lobby, the vibrancy of a restaurant or bar, or the variety of options in a city like NYC, there are plenty of places to choose from when finding the perfect spot for remote work.
Work at the Gym
If you need a change of scenery, why not consider working at the gym? Working from a device doesn't have to mean being confined to your home office.
A gym can provide a unique and stimulating environment to get work done while staying active. You will have access to all the necessary amenities like wifi and power outlets and be surrounded by an atmosphere that promotes productivity and focus.
Plus, taking breaks for quick workouts can help boost your energy levels and improve concentration throughout the day. So why not break from the home office and work somewhere else?
The gym is an excellent option for those who desire power and want to work in public places, offering a refreshing alternative to traditional workspaces.
Get Connected at the Shopping Mall
To stay connected while you're out and about, head to the shopping mall, where you can find a variety of cafes and lounges with free wifi. You will have access to fast and reliable internet, and other amenities make the shopping mall an ideal remote work location.
Free parking: The convenience of free parking allows you to easily access the shopping mall without worrying about finding a spot or paying exorbitant fees.
Public wifi: With public wifi available throughout the mall, you can connect your devices and get work done without interruptions or additional costs.
Coworking spaces: Some shopping malls now offer dedicated coworking spaces with comfortable seating, ample power outlets, and professional environments conducive to productivity.
Utilizing these resources at the shopping mall allows you to seamlessly and powerfully blend work and leisure. So why not take advantage of this unique opportunity to connect and be productive while enjoying all the shopping mall offers?
Conclusion
In conclusion, we have explored an array of exceptional public places to work remotely.
From bustling coffee shops to serene parks, there is a location for every remote worker's taste.
So whether you crave the aromatic aroma of freshly brewed coffee or the soothing sounds of nature, these spots offer the ideal backdrop for your productivity.
Embrace the freedom and flexibility that working remotely provides and make these fantastic places your new office away from home!