I'm sitting in an RV park in Tucson, Arizona, feeling very hot and thinking about the best generators for RV air conditioners.
One of the most nerve-wracking things when traveling in an RV is worrying if your air conditioner will stop when needed. So I asked around the RV park and did a little research to find the most suitable generators to power your air conditioner and the other appliances in your RV, too. Let's look at the best choices available.
My choice for the best overall generator for air conditioners in RVs is the Champion 3400. If you have a limited budget, I recommend the WEN 56475. For those that have a large budget, I recommend the Honda EU3000IS.
Let's start by considering what you must consider before purchasing an RV generator.
Table of Contents
Things to consider when buying a generator for your RV air conditioner.
Choosing between a conventional or an inverter generator
Power output
Portable vs. Permanent
Noise levels
Fuel consumption
Price
Conventional vs. Inverter Generator
Generators can power all sorts of appliances and devices in RVs when grid electricity isn't available.
My RV fanatic friend John has been through a few generators in his travels, so he says choosing the right one is critical to trouble-free RV traveling.
The two main generator options are inverter and standard models.
More recently, inverter generators have become more popular. Let's have a quick look at the differences.
Inverter generators are usually smaller, lighter, and quieter than conventional ones. An inverter generator is quite simply a generator with a built-in inverter.
They're able to convert DC power into AC power with high frequency. This process prevents power fluctuations, making them better than standard generators.
Both generator types come in many configurations with different power outputs and fuel sources.
The main difference between them is efficiency. Conventional generators work at a constant speed, making them reliable but, unfortunately, non-adjustable. This means that they make more noise and consume more fuel.
Inverter generators allow you to adjust their speeds depending on how much power you need. This means they are quieter, more fuel-efficient, and have a smaller carbon footprint.
Power Output
One of your primary considerations should be the power your generator needs to produce.
For example, to power a 15,000-BTU air conditioner, you must ensure your generator can produce enough power.
Devices like microwave ovens and AC units demand a lot of power. If you want to run them regularly, check that the generator has a sufficient wattage output.
Portable vs. Permanent Generators
All of the generators reviewed in this article are portable. Portable generators are the best choice for camping, tailgating, or general use in your RV.
If, after research, you'd prefer a permanent generator, my choice is the Generac 70432 Home Generator.
A permanent generator is installed directly onto an RV and connected to an onboard fuel source or backup battery. Professionals must fit these devices, and they are more expensive.
Noise
If noise is one of your primary considerations when choosing a generator, you'll be pleased that this was one of our main factors in this article.
Many RV parks have regulations regarding the amount of noise that is tolerated. Not to mention that most RV owners prefer not to have their peace disturbed by a roaring generator.
All the generators here take noise regulations into account and are quiet enough for any RV park. RV park noise regulations are based on decibel levels at a set distance.
Fuel Consumption
Another primary consideration when choosing the perfect generator is the amount of fuel that you will need to run it.
The fuel consumption will depend on the load you place on the device. If you are running a heap of devices, you will deplete the fuel faster.
Price
Value for money is another of my considerations in compiling this list of generators. If you're in a hurry, the cheapest generator to power your air conditioner is the WEN 56475. Of course, cheaper is not always better, so I have not included some of the low-quality Chinese models that can be found on the market today.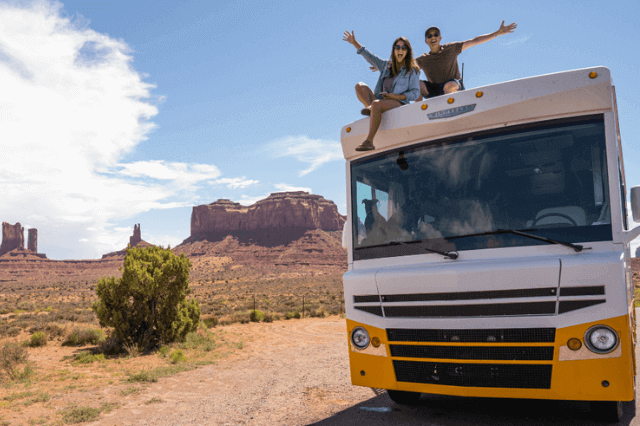 What size generator is needed to run an RV air conditioner?
If you regularly boondock, choosing the correctly sized generator is critical.
Size is dependent on the devices you wish to run on your generator, and it also depends on the maximum wattage each appliance will need to run.
Large appliances such as air conditioners and refrigerators require more wattage. If you run many appliances simultaneously, you will need more power.
It would be best if you took note of the BTU of your RV air conditioner. This will determine how many watts will be required to keep your RV cool and comfortable.
For example, if you have a 15,000 BTU A/C unit, choose a generator that can produce more than 3,000 watts. If you have a smaller A/C unit rated between 5,000 BTU to 8,000 BTU, you will need a generator that can produce at least 2,000 watts. That said, you're better off sticking to models with 3,000 watts to avoid any issues with running multiple appliances.
Take some time to add up the wattage each of your appliances needs and choose a generator that can easily cope with the demand.
What power output is required to run an RV air conditioner?
After asking multiple RV owners, the consensus is that a generator needs to have 2000 to 4000-watt capacity.
As I have mentioned, a few factors are involved in choosing the right generator size.
When using an air conditioner in your RV, a 2000-watt generator will be sufficient. If you want to be on the safe side, or you will be running lots of appliances simultaneously, a 3000-watt generator is a better choice.
For every 1,000 BTU of cooling output, the air conditioner in an RV will need approx. One hundred watts of power input is based on most RV air conditioning units having a 10 EER rating.
If you have a 13,000 BTU AC unit with a 10 EER rating, your generator must produce about 1,300 watts.
What type of generator is best for an RV air conditioner?
You might be asking yourself if you can forget about power requirements and grab the largest-sized portable generator you can afford.
Technically, you could, but it would not be a smart move. Conventional open-framed generators are known for being extremely loud, and they are fine for construction sites but too loud for RV parks or campsites.
Therefore, take your time and choose the quietest generator that can power your RV appliances. A good guide is that any generator that produces more than 60dB (sixty decibels) is too loud for RV parks and camping trips.
This means that most conventional portable generators are too noisy, so I only recommend a portable inverter generator.
Sorry to repeat myself but get one with at least 3000 watts to be on the safe side. The Champion 3400 is an excellent choice when taking all considerations into account.
Earlier in this article, I mentioned how inverter generators differ from conventional ones. The main reason is that they are much smaller and lighter than those ordinary open-framed generators.
Best generators for RV air conditioners
Best overall generator- Champion 3400-Watt Dual Fuel
This Champion model is my pick for the best generator for RV air conditioners. It can run on both propane gas and electricity. With just a flick of a switch, you can change the fuel source.
Propane generators are less expensive to operate than their electric counterparts. Although this generator is not cheap, you'll spend less on fuel, resulting in a faster return on your investment.
When using gasoline, you'll get a little more power. When switched to propane mode, the running time is increased to around 15 hours.
I love the wireless remote ignition feature on this model. The key fob may turn the generator on and off from up to 80 feet away.
The Champion 3400 has several receptacles, so you can connect it to your RV without needing additional adapters.
Another benefit is that it doesn't generate too much noise. Noise levels are around 59 dB at a distance of 23 feet so you won't annoy your neighbors in national campgrounds.
There's plenty of power available with this generator that can produce up to 3,100 running watts and 3,400 watts for starting. This is ample to run most heavy-duty travel trailers that use refrigerators, lights, and air conditioners.
Because it's an inverter generator, the Champion 3400 produces clean electricity that will not harm sensitive devices such as laptops, tablets, and televisions.
Champion's range of generators is among the most popular in the RV world. They are excellent value for money and have solid reviews from thousands of happy owners.
At the time of writing, Champion provides a limited 3-year warranty on all their products, making them a very sensible choice.
Best high-end generator – Honda EU3000IS
If you've been looking online before finding my review, this high-end entry will be no surprise.
Honda has a wonderful reputation for building some of the best generators in the world. Their units are among the quietest on the market and are known for their easy operation and excellent reliability.
This generator is the most expensive on my list and remains the go-to choice if the price tag isn't an issue. The cost is because Honda is the biggest and most reliable generator company, and the EU3000IS is an excellent example.
This machine can easily power a 13,500 BTU air conditioner with plenty of power to charge your batteries.
An internal microprocessor regulates 2800 watts of power output. This ensures that your sensitive electronics are always safe, and there is zero chance of blowing out mobile phones, microwaves, tablets, etc.
Noise output is excellent, ranging from 49 to 58 decibels. This is thanks to an onboard muffler which allows little more than a quiet hum while in use.
Another strength of the Honda EU3000SI is fuel efficiency, and it will keep you powered for up to 20 hours. It has a 3.4-gallon tank, which is enough for most RV owners.
Your RV air conditioner is in safe hands with this generator with its clean and consistent electricity. I also like that when the generator detects low oil, it automatically shuts down to avoid any issues.
Best budget generator – WEN 56475
If you're searching for a reliable generator to power your air conditioner (and all your other devices) but are on a tight budget, I highly recommend the WEN 56475.
This popular model is the most budget-friendly option on our list but still provides plenty of power to run your AC unit when you camp. It has an electrical start but runs on gasoline.
It has an impressive 4750 watts for start-up and a running rate of 3750 watts. That is ample for most of your RV needs, and you'll also have cash left over to buy some other RV accessories.
This WEN model features an electric starter, sturdy wheels, and a collapsible handle for easy transportation.
It's a very fuel-efficient unit that can run for up to ten hours on a single tank of gas. The tank is huge at a whopping 4 gallons.
It may not have as many plug-in options as the Champion 3400, but it will also protect your devices thanks to its spark arrestor and voltage regulator.
Safety is assured with a low-oil shutdown and voltage/overload protection. It also features a very cool spark arrestor which prevents the potential ignition of any nearby flammable debris.
Thousands of happy customers mention the quietness of this generator, the easy-to-use controls, and its reliability.
With its solid warranty, you get support for two years from technicians in approx. One thousand locations are spread across the United States.
Best fuel economy generator – Champion 100302 4000
The Champion 4000 generator is a worthy contender for the best generator for RV air conditioners. With more power than the Champion 3400, it is also more fuel-efficient.
Sale
This generator provides 4000 watts on start-up, and when running, it can produce 3500 watts to keep your electrical devices running safely. This means that even more powerful air conditioners will have enough juice with plenty left over for all other gadgets in your recreational vehicle.
Champion claims up to 17 hours of use on one fuel tank (at a 25% capacity), which will allow you and your family worry-free camping trips no matter your plans.
In addition to improved fuel efficiency and a larger capacity, this generator has more features than its younger brother, the Champion 3400. These include a useful USB adapter, quieter operation levels, and an impressive eco mode which improves the fuel economy. Considering all this, it's arguably the most technologically advanced generator on my list.
Fans of this model argue that all of the average RV's power needs are met for a very modest purchase price.
One negative (which keeps the price down) is that the Champion 4000 has a manual pull-start instead of a flashy push-button starter. Don't let this put you off; getting it going with a simple cord pull is still manageable.
Another reason for the low price is that the wheels are sold separately. You can get some if needed, but many owners prefer to save a few bucks by not buying them.
This one produces a maximum of 64dB, about the same volume as people speaking at a distance of 23 feet.
Overall, the Champion 4000 generator is difficult to beat for fuel economy and has over four thousand reviews on Amazon with a 4.6-star rating (at the time of writing).
Best dual fuel generator – DuroMax XP4400EH
For RV owners only interested in dual-fuel generators, the DuroMax XP4400EH could be the one for you due to its ability to run on propane and gasoline.
Sale
This generator is priced very competitively, considering that it comes with an electric starter and wheels for easy transportation.
DuroMax claims that in gas mode, users can enjoy approx. Nine hours of runtime, and in propane mode, it will go even longer.
Start-up power is rated at 4400 watts, then reduces to 3500 running watts. This means it is adequate for running RV AC systems and other electrical appliances.
Another significant benefit of DuroMax is the option to attach up to 20 gallons of propane. This fuel source is cheaper and more convenient and, in my opinion, is the future of RV generators.
Noise levels are reasonable but may be too loud for some RV owners, and it has been described as having the same volume as a modern lawn mower. If noise is your primary concern, consider the WEN 56380i featured later in this article.
Best high-wattage generator – Westinghouse WGen6000
Do you have enough power to run your AC unit with the abovementioned generators? Would you also like to use your generator to power your home in case of a blackout or power outage?
If capacity concerns you, you should consider the Westinghouse WGen6000. This fantastic generator has the highest wattage of all the machines on my list.
Sale
Undoubtedly, with this powerful generator, your AC unit will run without issue alongside all of your other electrical gadgetry. This model has a start-up wattage of 7500 watts and runs at 6000 watts under regular use.
Considering it is a gasoline generator, the powerful 420cc 4-Stroke engine has a decent running time of approximately 13 hours on a single 25-liter fuel tank.
Fans of the Westinghouse like the smooth electric start-up and the rugged wheels, which work well on just about any surface.
On a negative note, this baby isn't the quietest generator on my list, but considering its power, it is a small price to pay for such a powerful machine.
Despite its wattage, the Westinghouse generator is still very portable and doesn't take up much space. It is, however, quite heavy at 174 pounds.
At the time of writing, Westinghouse generators come with a 3-Year limited service, labor, and parts coverage with lifetime technical support from their nationwide customer service and support network.
Best quiet generator – WEN 56380i
WEN has an excellent reputation among RV owners and makes some of the most budget-friendly generators on the market. They have many wonderful reviews from happy customers that show that you don't need to spend $3K to power your RV gadgets.
The power output of the WEN 56380i is very respectable at 3800 peak watts/ 3400 rated watts. This is definitely adequate to power your RV appliances, including a 13,500 BTU air con unit. The WEN 56380i is also cheap to run, with around 8.5 hours of electricity at half load.
I am a big fan of the fuel shutoff feature that maximizes the generator's lifespan by using the remaining fuel in the carburetor before shutting down.
It is specially designed for RV'ers and has a dedicated output to plug it into your travel trailer. Like all of the "gennies" on this list, it's an inverter model that can be trusted to charge sensitive electronic devices.
Peace lovers will gravitate to the WEN as it is very quiet. At just 57dB, you can camp without annoying your nature-loving neighbors. If you didn't know, the US national park/campsite noise regulation is 65 dB.
The unit has two three-prong 120V receptacles, one AC 120V NEMA TT-30R RV receptacle, one 12V DC receptacle, one 5V USB port, and a digital load/fuel display.
FAQ
What type of fuel Is best for recreational vehicle generators?
There are three fuels used to power generators for recreational vehicles: gas, diesel, and propane.
Diesel is the most efficient fuel for generators. Diesel provides approx. 138,700 BTUs per gallon. It is also the cleanest burning of the three kinds of fossil fuels.
Gas-powered RV generators are the most widely used because of their availability. Most gas-powered generators can use your RV's fuel tank. Gasoline has a short shelf-life of about three months, so please keep this in mind.
Propane generators are usually the least efficient and most expensive, and they burn through fuel faster than gas or diesel. Propane/LP gas is quickly becoming the most popular choice for RV generators because it's easy to find, store, and move around.
Many of today's rig appliances use propane, so you probably have tanks on your RV. Propane has a longer shelf-life than gas and diesel because it's stored in sealed tanks. It is also the lightest fuel of the three to keep the weight down.
Each of these types of fuels has its advantages and disadvantages. It would be best to base your energy choice on cost and, most importantly, how easy the fuel is to get and store.
How do I connect a portable generator to my RV?
In most cases, the answer is simple. Just plug your RV power cord into it! But it's not always that straightforward because some generators don't have power outlets that will fit.
In these cases, you'll need a "dogbone" adapter to connect the RV plug to the generator outlet.
When you're ready to connect, please turn on your generator, let it run for a few minutes, and then plug in the RV power cord.
A step-by-step guide to connecting portable generators to recreational vehicles.
Step 1 – Place the grounding rod into the ground in the spot where you will place the generator.
Step 2 – Connect the copper wire from the grounding rod to your generator.
Step 3 – Make sure to route your generator's exhaust away from the vehicle.
Step 4 – Plug the RV's connector cable into the generator.
Step 5 – Turn on the portable generator, and you're good to use it.
How do I take care of an RV Generator?
Modern generators (like the ones on this list) don't require much maintenance if you take care of them.
The most important thing is to keep your generator somewhere stable so it doesn't tip over during travel. If it falls over, the gas and oil in the unit may spill out. Not only will this make a mess, but it could also hinder the functioning of the unit.
My RV-loving friend has built a sturdy box to keep his generator, so it can't fall over. He learned the hard way after, so please learn from his mistake.
Another good tip is to keep gas from sitting in the lines by purchasing a generator that allows you to shut off the gas flow before it turns off. An excellent example of this is the WEN 56380i. This safety feature causes the generator to shut off when the gas has left the lines. Leaving gas in fuel lines/tanks can destroy the engine.
And don't forget to change the oil. You can check with the manufacturer for the frequency, as this varies from model to model.
Here is a quick list of things to keep your eye on.
Check oil levels regularly
Change the oil regularly
Replace and clean air filters
Replace spark plugs when necessary
Replace fuel filters
How long will my generator last?
The lifespan of a portable generator will depend on the type you buy. If I had to give a number, the average lifespan would be 10,000 to 30,000 hours. This number will depend on the quality of the unit, the frequency of use, and how well it is maintained.
If longevity is your main concern, stick to brands like Honda or Champion.
What outlets are required for RV generators?
Generators have several outlet configuration styles, so it's best to consult the manual or the manufacturer.
The main thing is knowing the NEMA configurations of the RV plug and the generator outlet. The NEMA configuration will often be stated on the generator's outlet.
Below is a list of the most common NEMA configurations.
NEMA 5-15/20
NEMA L5-20
NEMA L5-30
NEMA TT-30
NEMA L14-20
NEMA L14-30
NEMA 14-50
I hope I have answered all your questions concerning choosing the right generator to power your RV air conditioners. If you have any further questions, send me an email at matt@everydayape.com.
If you liked this article, you might also like my article What to take on holiday for a week.