As I get more into travel photography, I hear more and more about the Japanese multinational Fujifilm. Readers of my website have requested more information about the company and have specifically asked what are the best Fujifilm cameras for travel.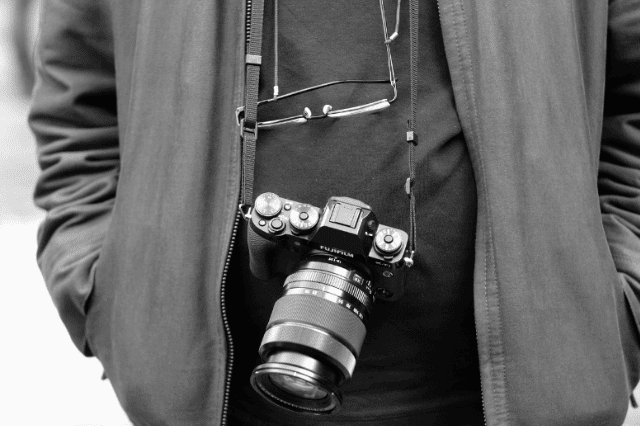 Before writing this in-depth article, I consulted with many owners of Fujifilm cameras and tested a few models. Trust that I have left no stone unturned in my quest to bring you the highest-rated Fujifilm cameras to document your travel adventures.
This list considers reliability, build quality, ease of use, size, weight, cost, and after-sales service.
Table of Contents
How to pick the best Fujifilm camera for travel?
If you're as much of a travel fanatic as I am, exploring the planet armed with a good travel camera is essential. It enables you to bring back vacation images you can share with loved ones and cherish for a lifetime.
But how do you pick the best travel camera to capture your epic moments?
There's no one size fits all answer to this question, and each of us will have slightly different requirements and budgets when choosing a camera for traveling. Here is a short list of the primary considerations before purchasing.
What will you use the camera for?
What's your budget?
Which type of camera do you need?
Speed & performance
Number of megapixels
Ergonomics
Image stabilization
Video capabilities
Weatherproofing
Yes, that's a lot! And that's precisely why I have written this article. I have carefully selected the best Fujifilm travel cameras and categorized them according to their usage. I hope you enjoy the article and that it helps make your decision easier.
Why is Fujifilm a good camera for travel?
Fujifilm cameras have a fantastic reputation and are among the most stylish on the market with their retro design and easy-to-use controls.
The X-series have proven extremely popular over recent years as they are sleek, attractive, and full of the latest imaging technology.
The straightforward functionality of Fujifilm cameras makes getting that perfect shot very intuitive, and they are often the first choice of professionals and amateur photographers alike.
Fans of Fujifilm often refer to the dials. They are very tactile and offer a ton of functionality that is usually not too difficult to master.
Another significant benefit of owning a Fujifilm camera is the range of interchangeable lenses. You can decide which camera body you like best and worry about your lens afterward. This is a massive benefit over the likes of Sony and Canon.
With regular firmware updates, fantastic build quality, versatility, and beautiful aesthetics, they make a camera suit every kind of photographer. In this article, I have reviewed the eight best travel cameras from Fujifilm and hope you get value from my research.
Best Fujifilm cameras for travel
Best for beginners and vloggers – Fujifilm X-S10
The Fujifilm X-S10 has many great features of the excellent X-T4 but is cheaper and has a more compact body.
Sale
Fujifilm X-S10 Mirrorless Digital Camera XF16-80mm Lens Kit – Black
It's All About How It Feels: X-S10 has been designed to provide on-the-go photographers with maximum…
Making State-of-the-Art Simple: Designed to be simple and minimalist on the outside, X-S10 still…
Putting Stability in Your Hands: To document the most amazing moments, you need to be in the right…
This model is one of my favorite mid-range mirrorless cameras, and it's an excellent camera for beginners with lots of shooting power packed into a small shell.
It feels like a DSLR camera because of its comfortable chunky grip and easy-to-use dials. Fortunately, this retro-styled model doesn't have the bulk of a DSLR.
Featuring the established APS-C sensor and X-Processor 4 combination makes the X-S10 a versatile and functional all-rounder that is just as comfortable taking stills as taking high-quality 4K video at 30fps.
Autofocus speed and accuracy are high on the list of must-have features for travel photography, and the X-S10 is pretty impressive in this arena. It also has an eye-detect feature that allows you to track moving subjects, which is very useful.
It's also very effective at shooting in low-light conditions. This is thanks to the built-in image stabilization (IBIS), which is very handy when shooting with longer lenses.
The X-S10 is fully customizable in that you can set up the buttons and dials just as you like. You can connect the camera to your phone via the Fujifilm Camera Control app, which means your shots can be sent to your phone and onto Instagram in just a few seconds.
The X-S10 has many features, including USB charging, a pop-up flash, and a flip-out screen, making it a popular choice with vloggers.
The only downside is that it is not weatherproof. If that is a make-or-break factor in choosing a travel camera, you should opt for the Fujifilm XP140 (reviewed later in this article).
Besides that, the X-S10 is a great camera to begin your photographic journey and is also my top pick for vloggers.
Best for landscape photography – Fujifilm X100V
The Fujifilm x100V is a worthy contender for the best Fujifilm camera for travel.
Sale
Fujifilm X100V Digital Camera – Black
Great Photography Every Day, Everywhere: X100V features a newly designed, incorporated 23mmF2 lens,…
Designed for Quality and Speed: From fleeting holiday moments and family celebrations to…
Two ways to See an Image: To truly convey the magic of a scene, you need to be immersed in the…
Fujifilm's 23mm (35mm equivalent) lens is legendary and improved in the new X100V. It enables bright and colorful shots with an excellent depth of field.
One of the X100V's big pluses is the hybrid viewfinder. You can overlay digital information by peering through the eyepiece or switching to full EVF (which displays a high-resolution LCD image). This feature helps zoom in on subjects while checking focus and seeing what your shots look like in real time.
Other benefits of the X100V are the autofocus and low light ability, but my only gripe is the lack of image stabilization.
It's a subtle little camera, making it popular with many street photographers. Its easy-to-use practicality is one of the main reasons for its growing popularity. It also provides a selection of mechanical or electronic shutters, which is handy when shooting quietly is necessary.
The Fujifilm X100V is one of the best travel cameras on the market and has a 4.6-star rating on Amazon (at the time of writing).
Best for low light photography – Fujifilm X-T4
The Fujifilm X-T4 is aimed at professional photographers that shoot various subjects while on the go. The body of the X-T4 is solid and well-designed, and the top dials have a very familiar and intuitive feel.
Sale
Fujifilm X-T4 Mirrorless Camera Body – Black
Putting stability in your hands: A huge part of creating great photos or videos is making sure you…
Performance you can rely on: For any serious image maker, having a tool that can be relied upon to…
Find the best angle for your story: When chasing the perfect image, versatility is key, so the last…
Its success is its best image stabilization in the Fujifilm range, with just 6.5 stops. When used with a long telephoto lens, it's one of the best travel cameras for shots in low light conditions.
About 600 shots are possible with the new battery, which significantly improves over previous models in the X-Series range. For you techies, the X-T4 now uses the NP-W235 Battery.
A welcome new addition is a switch just below the shutter speed dial. This allows you to change between taking still images and video. I love that your settings are stored, making the transition between the two modes much smoother.
Regarding the video functionality, the Fujifilm X-T4 doesn't disappoint with 4K at 60fps. The image stabilization works like a charm to keep handheld shots as steady as a rock. Customers are also raving about the new flip-around LCD, which appeals to all those vloggers.
My final thoughts on the Fujifilm X-T4 are that it's an excellent camera for professional shots but not so technical that it's unsuitable for newbies. With pro-level functions for video and stills, it's a versatile camera that can't be faulted.
Best Instax – Fujifilm Instax Mini 11
The Fujifilm Instax Mini 11 is an entry-level instant camera from Fujifilm. The camera makes use of the Instax Mini film format.
Sale
A few improvements since its predecessor hit the market include a cool 'Selfie Mode' and much better auto-exposure.
The camera is easy to use and takes adorable images in all lighting conditions.
The Instax Mini 11 is straightforward and an excellent camera for children to get in on the action.
The operation couldn't be any easier. Press a button to extend the lens, switch the camera on, and hit the shutter button. There are no other buttons to complicate matters, and when you're finished, push the lens back in and turn the camera off.
To complement the selfie mode, the camera has a small selfie mirror on the front of the lens, which is a nice touch. To activate this mode, you have to pull the front of the lens outwards and see the words' Selfie on' appear.
The Instamax is held vertically by default, making it great for portraits. The viewfinder is a bit small, but that's the norm with this kind of Instax Mini format camera.
The focus is ok (not great), but the exposure is excellent. Image quality, on the whole, is pretty good and much better than its competitors, with the camera's flash doing an excellent job of balancing ambient light.
Like most Instax Mini cameras, it works best in good to moderate light when the subjects are close. The flash range is approx. 2.7 m / 8.85 ft).
To sum up, the Instax Mini 11 is the easiest of all the instant film format cameras and will keep the kids happy while the grown-ups use one of its higher-end siblings.
Best minimalist – Fujifilm X100F
The X100 series has been a favorite of serious photographers for a while now, with the X100F being the fourth generation of the series.
Fujifilm X100F 24.3 MP APS-C Digital Camera-Silver
24.3MP X Trans CMOS III APS C sensor with no low pass filter and X Processor Pro
8 way focus lever plus the number of focusing points has been expanded from 49 in previous models to…
Built in ISO dial, incorporated into the shutter speed dial and operating temperature is 0 degree…
Featuring 24.3 MP, a fast image processor, an improved AF system, and a new button layout with joystick autofocus, the Fujifilm X100F has been called the best camera in the world by many.
It took Fuji over two years to release this very advanced camera, with many X100-series owners eagerly awaiting the chance to upgrade to this worthy successor.
The camera's top and bottom are made from magnesium alloy, so you can imagine how solid it feels and how well it withstands daily use. The middle section is made from plastic and synthetic leather to save on weight.
Adding a joystick for quicker autofocus point selection is the most significant change from the previous model. The joystick enables users to move a focus point toward the subject quickly.
There's no denying the X100F looks very cool with its stylish retro design and has sold in the thousands due to its unique character. In addition, the X100F handles like a dream with just the right weight, size, and balance.
It has a tiny 23mm pancake-type lens that is light enough to retain its balance and small enough to slide into your pocket when you're on the move. It's fair enough to wear around the neck, making it popular with street photographers and travelers.
One of the highlights of the X100F is the hybrid optical/electronic viewfinder. It also has a built-in flash which can be activated with the rear rotary dial.
Operating the camera and navigating the menu is a pleasure, with all essential functions and customization options. There are also extra features to explore, including an intervalometer and digital teleconverter.
The beating heart of the X100F is an updated 24.3 MP X-Trans CMOS III sensor. This is the same one that Fuji uses on their X-Pro2 and X-T2 cameras. The increased resolution from 16.3 MP to 24.3 MP is very noticeable when you look at the details in your images.
Lovers of fast cameras won't be disappointed with eight frames per second in continuous shooting mode. The X100F was given a boost of 2 fps over the X100T, which as pros will tell you, can make a world of difference for action photography.
The X100F can manage approx. Three hundred ninety shots before the battery starts to fade. This is thanks to a faster processor and larger battery than the X100T (which could only manage around 300 photos). Please bear in mind that these numbers are based on a combination of different modes and the use of flash. In reality, you'll get much more than 390 shots on a single charge.
To conclude, the minimalist X100F looks gorgeous, has excellent image quality, and is the perfect camera for travel and landscape photographers.
Best weather-resistant – Fujifilm FinePix XP140
The Fujifilm Finepix XP140 is the toughest of the Fuji range and is waterproof to a depth of 25 meters, making it the most weather-resistant Fujifilm camera ever made.
Sale
Believe it or not, it can operate in temperatures as low as -10C and even be dropped from a height of 1.8m without suffering damage.
The funky XP140 was introduced in 2019 as Fujifilm's annual update to their XP waterproof cameras to supersede the still impressive XP130. Like the previous model, Fuji has kept the 5x zoom and 16-megapixel sensor, and even the body looks very similar.
Waterproofing is slightly improved over its predecessor by adding 5 meters to the maximum depth range, but the new 4K video functionality is the main improvement. Other additions include the square video mode, an enhanced maximum ISO sensitivity of 12800 ISO, a new auto-timer way, and extra filters.
The Finepix XP140 is equipped with WiFi and Bluetooth, but what is new is that you can transfer photos to your smartphone while you are taking more shots!
There's a lot to like about the Fujifilm XP140, from the cute design, good range of features, and, most prominently, the very reasonable price. Of course, you won't get control of the X100F, but it does produce nice shots under the right conditions.
You'll probably get better photos with your phone but can your phone still work 25 meters underwater and survive being dropped repeatedly onto rocks at the beach?
With that in mind, if you don't need the 4K video and scene recognition, the XP130 is an even bigger bargain. And if you want something a little more advanced, you can look at the Olympus TG-6, which is waterproof to 15 meters, has manual control, macro shots, raw shooting, and stunning 4K footage.
Best zoom – Fujifilm FinePix SL1000
The FinePix SL1000 is a fantastic bridge camera with a 16-megapixel resolution, a 3-inch tilting screen, 920K dot EVF, RAW format support, Full HD video, and an incredible 50x optical zoom.
Other cool functions to excite budding photographers include a 3-level zoom switch, 1cm Super Macro mode, and a customizable Function button.
The SL1000 primarily aims at more advanced users, but that doesn't mean novices can't get in on the action. The modes more aimed at amateur photographers include manual controls, RAW recording, and an external flash hot shoe.
The manual controls for the camera are found on the command dial. They include the following:
Program (where the camera controls the shutter speed and aperture)

Shutter priority (where you can control the shutter speed, and the camera controls the aperture)

Aperture priority (the same Shutter priority, but reversed)

Manual (where you control the Aperture and Shutter speed)
Start-up time is high on the list for travel photographers so as not to miss the best shots. The SL1000 is no slouch in this department, with a start-up time of just 1.6 seconds. This time includes switching on the camera, focusing the image, and taking the shot. This is pretty impressive compared to around 2.5 seconds for most digital compact cameras.
Fans of continuous shooting will be happy with the three modes offered by the SL1000. They are classed as Low, Medium, and High. The idea here is to take a certain number of pictures in a similar time frame (fps or frames per second). The number of frames available is:
Low mode – 3fps

Medium mode – 5fps

High mode – 10fps
One of my favorite features of the SL1000 is found in the Playback menu. If you choose the first option, "Photobook Assist," you can create a list of images to include in a "photobook."
You can make six books to keep your shots neatly ordered while on the go.
After creating your photobooks, you can search for particular images using parameters such as the face, date, favorites, and upload mark. The last option allows you to allocate pictures that can be uploaded to your social media accounts, such as Facebook (for images) and YouTube (for videos).
"What's in the box?" I hear you ask:
A lithium-ion battery and charger

A lens cap

A neck strap

A USB cable to download your images/videos directly to your computer

A users manual

A warranty booklet

A CD containing the full manual and a basic editing suite called MyFinePix Studio Version 4.2
In conclusion, the Fujifilm FinePix SL1000 is not the cheapest camera on the market, but it's worth the money. And if you are on the hunt for the best Fujifilm zoom camera, you've found it.
Best for video/vlogging – Fujifilm X-S10
As I reviewed the Fujifilm X-S10 earlier in this article, I'll quickly comment on the camera's video recording abilities.
The Fujifilm X-S10 is the company's best vlogging camera.
Just add an excellent wide lens onto the camera, and you can hold it in your hand to make your vlogs. The inbuilt stabilization is very effective and will ensure your videos look professional.
Another critical feature attracting filmmakers to the X-S10 is the true flip-out screen! I wasn't the biggest fan of these until recently, but now I appreciate getting low or high while still having an excellent view of the LCD screen.
Let's also not forget the hot shoe mount. This is perfect for adding a shotgun microphone alongside a 3.5mm mic input. The X-S10 also has a USB C-type headphone jack to monitor your audio.
You can record 30-minute clips by pressing the dedicated video record button for beautiful footage every time.
This is the best Fujifilm camera for shooting professional videos in 4K at 60p, so pick one up and begin your vlogging adventures.
FAQ
How do I choose a camera for traveling?
First of all, you should read this article (lol). But seriously, consider whether you need a separate travel camera or the one on your smartphone that can do the job.
Smartphones have limitations. You may decide that you want to get more creative with your photography, and you might also get annoyed with the blurry backgrounds and would instead invest in a high-quality travel camera. Then it would be best to decide between a compact camera or an ILC (interchangeable lens camera).
Decent cameras these days don't have to cost a fortune. There are a heap of amazing models for under $500, and if you stick to a Fujifilm, you will get many years of use out of it.
I have made a shortlist of considerations when looking for your first travel camera:
Small enough to fit in your pocket
Lightweight enough to wear around your neck on a strap
The best image quality that you can afford
The camera should be inconspicuous
Build quality and durability
Ease of use
The ideal travel camera for me can easily slide into my backpack, is light enough to wear around my neck, doesn't look too expensive (as I don't want to get robbed), takes excellent shots quickly every time, and doesn't break if it gets bumped once in a while.
Is Fujifilm an excellent first camera?
The latest Fujifilm cameras are some of the best-looking, well-designed, and easy-to-use cameras available today.
From the cheap and cheerful SL1000 to the mighty X-S10, you can be confident that a Fujifilm camera will deliver a fantastic shooting experience that will enrich your traveling experiences.
Fujifilm X cameras are well known for their amazing shots straight out of the camera. While all of this range shoots in RAW format, you can also shoot JPEGs which look more punchy with vivid colors.
Fujifilm has a massive range of cameras, so whether you are a beginner, enthusiast, or expert, you'll find one that suits you perfectly.
What is the best Fujifilm camera for street photography? – Fujifilm X-Pro3
Anyone involved in street photography knows it requires a good eye, a lot of discretion, and a nimble camera.
Fujifilm X-Pro3 Mirrorless Digital Camera – Black (Body Only)
Advanced Hybrid multi viewfinder: optical Viewfinder (ovf) uses a 0. 5x magnification and…
X-trans CMOS 4 sensor and X-Processor 4 combination. This exceptional 26. 1MP sensor uses a…
X-Pro3's timeless body design features a top and base plate constructed from titanium, which,…
Good street photography cameras must be lightweight, have small, easy-to-use settings, fast lenses, and excellent autofocus.
In my opinion, the Fujifilm X-Pro3 is the best camera for street photography in 2023.
Although it's not the smallest option, the ability to change lenses makes this the best all-around choice. This gives the X-Pro 3 the versatility that fixed-lens cameras can't match.
You only have to look at it to appreciate its unique design, but the reverse-tilting screen elevates this camera. This enables street photographers not to depend so much on the camera's screen and interact more with their subjects.
Fujifilm states that the X-Pro 3 is suitable for approx. Three hundred seventy shots of photos on a single battery charge, but in reality, you'll probably get more than this, depending on your settings.
While not quite as discreet as a compact camera, it is weather-sealed, which is a huge plus. So if you're searching for an interchangeable lens camera well adapted to street photography, the X-Pro 3 is tough to beat.
Which Fujifilm camera has the best image quality?- Fujifilm X-T4
The Fujifilm X-T4 is the top dog for image quality based on versatility, size, and pricing.
I reviewed this stunning camera earlier in this article, but let's look at the highlights again.
The X-T4 is probably the most sophisticated APS-C camera on the market today for the following reasons:
6.5 stops of in-body image stabilization

High-quality 4K video

Excellent range of codecs

Breakneck burst speeds

Highly responsive EVF viewfinder

A fully articulated screen

Long battery life.

26.1-megapixel X-Trans sensor
It's a bit more expensive than its predecessor (the Fujifilm X-T3), but you get many more features for your dollar.
Fujifilm hasn't said much about the X-T5 yet, but with their constant improvements and upgrades, you should watch for its release.