As you may have noticed, many manufacturers are far from forthcoming with the noise levels of their vacuum bots. That's why we have felt the need to help you find the quietest robot vacuum cleaner on the market today.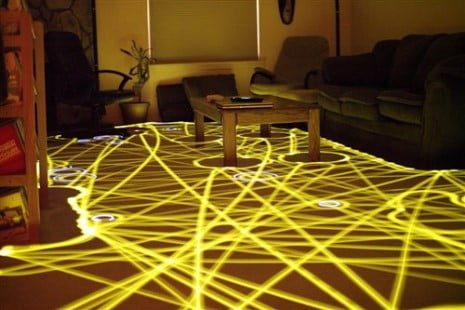 If you're in a hurry, the RoboRock S5 at 54dB is the quietest robot vacuum you can buy. It might not have the cachet of the infamous Roomba by iROBOT, but it delivers. The Roborock S5 has laser navigation, floor mapping, and mopping functions.
One of the key factors of a robot vacuum cleaner is its noise output. What is the point of owning a vacuum robot packed with features if it disturbs the family every time you use it?
Why should I care?
You will be able to vacuum without feeling stressed by the noise. Many studies have shown that loud noise increases cortisol levels in our bodies.
Your cat or dog will thank you if you buy a quiet vacuum cleaner. If you are a pet owner, you know the distress a noisy vacuum cleaner brings to their lives. Dogs and cats have sensitive hearing, and loud noises easily spook them. It might sound like a gentle hum to you, but it sounds like Armageddon to your Cocker Spaniel!
You will be free to vacuum any time of the day or night. The most silent robotic vacuums allow you to clean your crib at any hour of the day or night without receiving complaints from your neighbors.
How do you define quiet in a robot vacuum?
In researching this article, we set out to find the quietest vacuum-cleaning robots available today.
(There may be marginally quieter vacuums around, but they didn't make the list due to a lack of quality or poor after-sales service.)
Our mission was to get the perfect balance between noise levels and usability.
By choosing any of the quiet robot vacuums in this article, you won't disturb anyone and also clean your home effectively and efficiently.
Before spending your hard-earned dough on a robot vacuum, you might wonder how much quieter "quiet" models are compared to "standard" vacuum cleaners and if it's worth it to make the switch.
As a guide, most normal upright home vacuum cleaners emit sound between 75 and 80dB (decibels). For quieter models, the sound output is closer to 65/70 dB.
The robot vacs featured in this article range between 54 and 70 dB. Finding anything quieter is difficult while still getting an excellent cleaning experience.
Robot vacuum noise comparison
Below is a list of the five quietest vacuuming robots with robot vacuum noise levels in decibels. These statistics are based on the vacuum cleaners running on their lowest power settings.
Quietest Robotic Vacuum –
R

oborock S5
Sound level – 54 Decibels
This stealthy robot vacuum is on our list as it is the quietest and delivers incredible suction (even on the first power setting). The RoboRock is a very efficient noiseless bot with the lowest sound emission of 53 dB.
If you need more suction power (up to 2000Pa), you can crank up the unit, but of course, it will be slightly louder in volume. This high-power setting is excellent for every surface, from wooden floors to carpeting.
The RoboRock S5 looks similar to the previous model, with only a few layout changes. The most significant addition is that it now has a mopping function which allows your vacuum robot to carry out a dry and wet clean in one session.
At the front of the machine, you will find a small water tank, and at the rear of the unit, there are brushes for dry cleaning. The Mi vacuum has two speakers, a dust collection tray, and Wi-Fi reset buttons.
The superior cleaning ability is thanks to a rotating brush. It is very effective at siphoning dust & dirt into the robot's path. Under the machine, a circular brush sucks in the dirt.
It has two wheels on either side and a smaller balancing wheel for excellent stability. With a 2cm obstacle clearance, it can easily glide over rugs and other uneven surfaces. We love the "carpet mode," which increases suction when your vacuum recognizes it is cleaning a carpet.
The S5 vacuuming robot uses a clever grid-based cleaning system. It divides your room into zones and then glides backward and forward until the entire space is clean. The standard cleaning mode is 'Balanced", but you also have "Quiet," "Turbo," and "Max" settings should you need more suction. (Please note that in the top mode, the machine is noisier than when in its default setting).
Cleaning is very straightforward with the RoboRock robotic vacuum. Just press the power button, and the robot comes to life. It has an impressive total of 12 sensors which help it to create a virtual map of your house. While cleaning, the robot maintains its proximity to walls at 10mm. And the 2mm rubber bumper keeps your furniture safe from potential damage.
This quiet robot vacuum has a 5200mAh battery suitable for around an hour of cleaning. When your cleaner runs out of juice, it will recharge to its charging dock. It automatically resumes cleaning from where it left off.
The RoboRock robot vacuum cleaner is a very versatile machine. You can change the volume level, install new language packs, set automatic cleaning schedules, view your detailed cleaning history, and even get details on any maintenance issues that may arise.
You won't need to worry much about maintenance, as the main filter and brush are washable and last for ages. The filter should be fine for 150+ hours of cleaning time, and the brushes should not need changing until at least 300 hours of cleaning.
Not only is this machine the most silent robot vacuum, but it is also one of the best cleaning bots you can find for the money.
Runner-up – ECOVACS Deebot N79
Sound level – 55 Decibels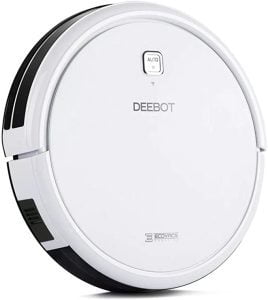 Not relatively as quiet as the RoboRock, the Deebot N79 is an amazing machine, and while being the runner-up, it's easily one of the best robot vacuums available today.
The DN79 is an absolute bargain and the cheapest vacuum robot in this article. It has three cleaning modes and is fitted with state-of-the-art motion technology. This enables the smart little fellow to optimize its routes to clean the entire floor (without missing any spots).
The Amazon ECOVACS Deebot N79 comes with two side brushes. They do a great job of dragging dirt and dust from the corners of your rooms and then directing the debris straight into the powerful suction port.
For the extra lazy, the N79 has a remote control that lets you change the cleaning modes and conveniently schedule your next cleaning session.
The Deebot is a super-quiet machine at just 55dB (on the lowest setting) and a superb choice for cleaning your home. It continues to be one of the best-selling automated cleaning robots, with rave reviews from thousands of satisfied customers.
3rd place – iRobot Roomba 690
Sound level – 60 Decibels
The top-end Roombas are certainly not cheap, but this entry-level Roomba is a fantastic robot vacuum for the money, and it performs just as well as other units costing twice the price.
Powered by iRobot's now famous iAdapt technology, the Roomba 690 is the quietest Roomba vacuum on the market at 60dB.
This cool-looking Roomba navigates around any obstacles it comes across and is significantly more efficient than most regular dumb robot vacuums.
The Roomba 690 can be controlled from your smartphone via the iRobot app. It makes an excellent choice for small to medium-sized houses that wish to remain peaceful and stress-free!
While the 690 is the quietest Roomba, their best robotic vacuum cleaner, in our opinion, is the Roomba 980.
4th place – iRobot Roomba 780
Sound level – 60 Decibels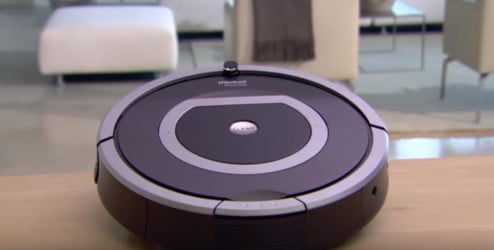 The Roomba 780 is the newer version of the iRobot 770. The manufacturer claims this model will remove 98% of dust and dirt from any surface.
The main improvement over the 770 is the virtual lighthouse feature. This feature confines the vacuum to one area, and at a predetermined time, the unit will trundle off to clean a different room. The Roomba 780 also has a virtual wall function that allows you to keep the vacuum in or out of particular areas of your rooms.
A glance at the Amazon reviews shows that owners of the 780 are delighted with how this device cleans the room's edges. This is thanks to the heavy-duty three-pronged side brushes.
Sufferers of allergies are also happy with the washable HEPA filters on either side of the dirt bin. They can filter allergens up to a size of 0.3 micros. Potential customers should note, however, that the HEPA filters need to be changed every 2-4 months to maintain their effectiveness if the machine is used regularly.
IRobot quotes the officially stated runtime of the Roomba 780 at 90 minutes, but many customers claim up to 4 hours of use on a single charge. When the vacuum runs out of power, it takes 2 to 3 hours before it is ready for more work.
The iRobot Roomba 780 is an excellent automated cleaning tool and a wise investment for those with busy lives.
5th place – iRobot Roomba 880
Sound level – 66 Decibels
The Roomba 880 was introduced by iRoomba as a replacement/upgrade over the Roomba 790. This model is one of the best robot vacs for vacuuming animal or human hair.
Instead of brushes, the 880 is fitted with rubbery "extractors." This brushless technology does an excellent job of removing dirt and means less maintenance.
The Roomba 880 is 3.6 inches high, 13.9 inches wide, and weighs 8.4 pounds. Its features include a removable dustbin, a sturdy carrying handle, a simple release button, two side wheels, a removable caster wheel, dirt extractors, and a spinning side brush. The 880 also has a docking station, two virtual wall sensors, a remote control, and a spare HEPA filter.
Compared to the 780, the Roomba 880 is quicker, cleans better, and requires less maintenance. It's also effortless to use. Select "regular clean" or "spot clean," and away it goes!
Many people choose the 880 as it's equipped with Roomba Lighthouse. In Lighthouse mode, the device keeps the vacuum in one room until it's clean before sending it to another. The Virtual Wall mode is another way to keep the cleaner only in the rooms you wish to clean and out of the ones you don't.
Another great feature of the iRobot Roomba 880 is the patented AeroForce cleaning system. This involves rubber rollers instead of brushes. These spin around to increase airflow and provide excellent suction. These rubber rollers are much easier to clean than traditional brushes making the 880 a perfect choice for households with animals or people with long hair.
Frequently asked questions
How loud is loud?
A Decibel (dB) is the most common measurement of sound levels. The higher the number of decibels, the louder the sound will be.
If you're wondering how many decibels are too loud, a sound level of 60dB is about the sound of a clothes dryer or a normal conversation.
The Roborock S5 is the quietest of the soundless robotic vacuums at just 53dB. While that may be a little distracting when you're watching TV, if you move to an adjacent room, you will hardly hear the sound of this quiet vacuum cleaner.
Are robot vacuums worth it?
iRobot is the leading manufacturer of robotic vacuum cleaners right now. Their range of robotic vacuum cleaners isn't cheap, with prices starting at around $300 and rising to about $900.
The relatively high price point can put many people off buying one, especially when you bear in mind that they can't perform all of the functions of a regular vacuum cleaner. Whether a vacuum robot is worth the money depends on how much value you put on your time.
The latest automatic floor cleaning machines can be programmed to clean up your house every day, leaving you free to get on with other things. Considering that most of us seem busier every year, it's no wonder these cool cleaning devices are rising in popularity.
Even if they only save a few hours a week, robot vacuums are great time-saving devices. They can take care of the "lion's share" of the vacuuming and make a wise purchase for anyone struggling to find enough time to perform their cleaning duties manually.
A vacuuming robot is cheaper than human help for households that employ cleaning staff. It will save you money in the long run, even more so for owners of very large homes that take a long time to clean.
What other factors should I consider when choosing a soundless robotic vacuum?
It's not easy to choose from the vast array of vacuums. Consider these factors if you're feeling a little confused about choosing a robotic vacuum.
Apart from the noise level, there are a couple of other things to consider before deciding on the best model for you.
When choosing a soundless robotic vacuum, the primary consideration is the kind of floor you will be cleaning most often. Do you need a unit for thick carpets, tiles, wooden floors, or vinyl? While many of the latest autonomous vacuum cleaners can function on any surface, you are still well-advised to choose a Roomba designed for a particular floor type.
Another consideration is the type of material you wish to hoover. For example, some robotic vacuums are great for regular dirt and dust, whereas others are designed to vacuum animal hair.
Other things you should check before making an informed purchase are the build quality, battery life, Wi-Fi connectivity, warranty, and whether an app is available. Robot vacuum apps are a great way to check the vacuum's status when you're not home.
Are robot vacuums loud?
Robot vacuums are not louder than traditional upright vacuum cleaners. The robot vacuums featured in this article range from 54dB to 66 dB. This is about the same noise level as a dishwasher or an electric toothbrush.
Which robot vacuum is the best?
If money isn't a factor, the Roomba 980 is our pick for the best robotic vacuum available today! (you can see it on Amazon by clicking here)
Many of its competitors aren't good enough to pick up all the hair and dust on carpets. The Roomba 980, however, is more than capable of getting your floors clean.
What makes this machine so effective is the rubber carpet agitators. This makes it second to none in picking up dirt and dust. It also has an incredible mapping system that provides excellent navigation, so it hardly ever gets stuck.
The Roomba 980 can locate the dirtiest areas of your floor with its clever Dirt Detect system and is way ahead of its many rivals. The only downside of the Roomba 980 is the hefty price tag. It's also not the quietest robot vacuum in the world, either!
If you want more information, check out our article investigating whether robot vacuums are worth the investment.
Which robot vacuum is the quietest?
The RoboRock S5 is the quietest robotic vacuum cleaner at just 54dB (fifty-four decibels). The Deebot N79 follows this at 55 dB (fifty-five decibels).
How loud is a Roomba?
The quietest of the Roombas is 60db (sixty decibels). This is about as loud as a normal conversation between two people sitting one meter apart.
Which Roomba is the quietest?
At 60dB, the iRobot Roomba 690 and iRobot Roomba 780 produce the same noise levels. The iRobot Roomba 880 is slightly louder at 66 dB.
The Roomba noise levels are slightly higher than the RoboRock S5 and Deebot N79.
The 690 is a great little vacuum for the money with direct detection and multi-surface brushes. Smart features include voice control with Alexa and Google Assistant.
For a little more money, you can get a better-equipped 780. It's better for carpets and for dealing with pet hair.
If you enjoyed this article, you might also like to read our article titled Do Roombas work?
Our featured image is kindly supplied by By Chris Bartle [CC BY 2.0] via Wikimedia Commons
And our other image is Observing the Roomba from a safe distance Flickr photo by Eirik Newth, shared under a Creative Commons (BY) license.