Whether you're a professional or amateur typist, finding the best keyboards for typing all day can make work, gaming, or just surfing the net more enjoyable, comfortable, and efficient.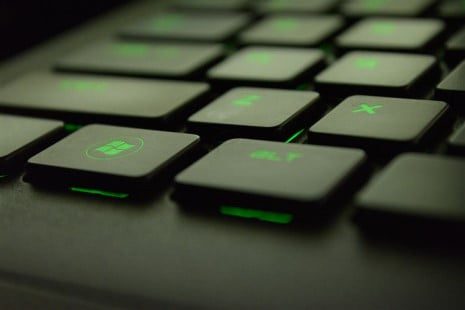 When selecting a new keyboard, you should consider how to use it. Some of us want a basic keyboard, while more serious computer users need their keyboard to perform particular functions for gaming or design software.
Table of Contents
There are several types of computer keyboards
Gaming keyboards: A gaming keyboard has to be fast and able to record multiple keystrokes immediately. They usually look the best of all keyboards and use backlighting to enhance the experience. Specialized gaming keyboards often feature extra keys which can be programmed for a better gaming experience.
Mechanical keyboards: Mechanical keyboards are the most common. They provide excellent tactile feedback. They also provide users with that satisfying "clacking" noise that signifies a proper keystroke. If you are a fast typist with a light touch, mechanical keyboards are often the best choice for recording your keystrokes.
Mobile keyboards: These are designed to be used with the latest tablets and smartphones. They are thinner, smaller, and lighter than standard keyboards. They often fold up and are the easiest kind of keyboard to carry.
Music Keyboards: If you play or produce music from your computer, having a special keyboard for volume control and other musical functions is necessary.
Design keyboards: These keyboards are used by designers and include customizable dials, specific key lighting, and keyboard shortcuts. They are handy for using Adobe applications such as Photoshop and Lightroom.
Programming keyboards: If you are a busy programmer, your keys need to be very responsive, and your keyboard needs to be durable. Your model must also have a low profile or be ergonomically designed so your wrists don't touch the keyboard.
Regular keyboards: A general type of keyboard with all the keys and features one would expect to find. This type of keyboard works well in most situations and is the best choice for computer users with basic needs.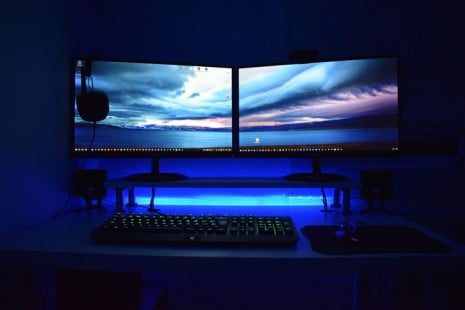 Things to consider when buying a new keyboard
To ensure we're all on the same page, we've summarized the main features found in keyboards and how they affect you – the user.
Backlighting: A modern trend is to light the keyboard from beneath the keys. This makes it much easier to see the keys if you often work in the dark.
Connection choices: USB is by far the most common type of connection. Wireless keyboards utilize a Bluetooth or RF connection, making them much more portable.
Ergonomic design: For those of us who suffer aches & pains after spending a long time typing, an ergonomic keyboard could save you a lot of fatigue and discomfort. These keyboards force you to hold your arms and wrists properly. Many keyboards feature padded wrist supports, while others have strange shapes with curvy keyboards.
Keystroke responsiveness: Different internal parts of the keys are built with different response times. Some keyboards respond more quickly to light keystroke touches. The tactile feel of the keys is a significant consideration when choosing a new keyboard.
Keyboard layout: Most new keyboards have the traditional "QWERTY" layout. However, some keyboards have a 10-key numeric pad on the right-hand side. These are useful for people who need to enter many numbers into their computers quickly. Some keyboards have function keys across the top. These types provide quick access to all commands; some have dedicated arrow keys. High-end keyboards feature "unassigned" extra keys you can program for any function you need regularly.
With all these features and functions in mind, read on to see which of these devices is the best keyboard for typing all day. We've included keyboards for every type of user, from short-sighted grannies to caffeine-fuelled pro gamers!
And if you want to know which laptop to buy, check out the article "Best Laptop For Digital Nomads: Top 10 Picks For Remote Workers".
Best keyboard for typing all day
All the essentials are covered with the CORSAIR Vengeance K65. The latest version has added several extra features, making it the best overall keyboard for typing all day.
Of course, we could have chosen a $300+ keyboard with all the "bells & whistles," but the K65 Cherry MX is the best functioning keyboard at the best price.
Every key on the K65 (apart from the volume & Windows lock buttons) has a Cherry MX Red mechanical switch underneath. This is a feature usually only found on many higher-priced keyboards.
Best budget keyboard for all-day typing
The TeckNet X701 Gryphon gaming keyboard is our pick for the best budget keyboard, and it's also high on our list of keyboards for gamers on a budget.
This sweet keyboard has three adjustable backlight colors, which are fully customizable. It also has ten programmable. This makes it an excellent choice for users carrying out complex actions simply and quickly.
Featuring twelve dedicated media keys, you can control volume, mute, play, etc., with a simple button press. The TeckNet keyboard is ergonomically designed, making it very comfortable for extended sessions. It is our top pick for the best keyboards for typing if you have a limited budget.
Best mid-range keyboard for all-day typers
The HyperX Alloy FPS is a solid and affordable full-sized keyboard for daily use. It's very well-priced and is one of the least expensive keyboards.
It's a solid, basic, mechanical keyboard with an Alloy FPS Pro plastic chassis. It feels top-notch in terms of quality and durability.
This keyboard features a braided USB cable that connects to your computer and a built-in mini USB port at the back.
Best top-end keyboard for folks that type all day long
The gorgeous K70 LUX RGB mechanical gaming keyboard features fully customizable keys, light effects, and a sleek aluminum frame.
Whether you're a gamer or a blogger, you'll love the lightweight, aircraft-grade frame. This model has a sturdy detachable wrist rest to extend your typing/playing time.
With 100% Cherry MX RGB key switches, users get fast linear actuation with no audible click. This superb keyboard is not just about gaming but is excellent at handling all types of multimedia. Our favorite feature of this top-end keyboard is that you can customize the color of each key individually. You can highlight the keys that you need or even have a wave effect across the whole keyboard.
If you've got the cash, this is the best keyboard for typing all day that money can buy!
Best keyboard for typing speed
The Das Keyboard 4 Professional for Mac is a complete upgrade over the previous model. The new model features dedicated media keys and an analog control knob. It's made from matte-black aluminum, which is much more durable than the previous plastic version.
For folks needing the perfect typing experience and the best speeds, the Das Keyboard has two different switch choices. The first is "Cherry MX Blue," which gives a satisfying click each time you press a key. The second is "Cherry MX Brown," which is much quieter and less tactile. Whichever you prefer, the keyboard has gold switch contacts. This ensures that 50+ million keystrokes can be achieved before any damage.
This keyboard is our pick for the fastest typing speed, as the keys need minimal pressure. The dedicated media keys can be used for starting/stopping/skipping through audio tracks. There are also dedicated mute and hibernation keys.
It's not cheap, but if you need a fast keyboard, the Das Keyboard is worth every cent!
Best retro keyboard for a shot of nostalgia
How about a retro keyboard if you're looking for something different?
Anything retro is popular now, with consumers wanting vintage-looking products with an edge. For those who want a classic "old-school-style" keyboard, the Azio Artisan Retro Classic Keyboard could be just what you're looking for!
It looks like it was made in the 1920s, but the Retro Classic is USB & Bluetooth compatible. It is interestingly made with natural wood and leather. This keyboard looks stunning, and it smells great, too. Everything about this rocking keyboard screams luxury!
We love the 6-foot USB cable, which is very useful for using a standing desk. The Azio weighs in at four pounds due to the zinc-aluminum & gunmetal materials. Four chunky rubber feet are under the keyboard, and the back two can be adjusted for tilting.
The Retro Classic is modeled on vintage typewriters with sturdy mechanical hammer actions. All of the switches and keys are seriously heavy-duty. When pressed, the keys have perfect travel and resistance with a satisfying audible click. Modern features include a full N-key rollover, water & dust resistance, and pretty backlighting.
So if you're missing the good old days of typing, the Azio might give you that shot of nostalgia you've been craving!
Sale
Best keyboard for gaming all day
The key factor when choosing an excellent gaming keyboard is its switches. Switches fall into two categories: membrane and mechanical. Membrane switches are common and feel spongy. Mechanical keyboards give users much better responsiveness and a range of different feels.
The Alloy Elite RGB has excellent in-game performance. The keys are highly accurate and responsive. We love the preset key colors that can be used for various games, including World of Warcraft and Overwatch.
The HyperX Alloy Elite keyboard is stunning with its colorful peripherals and top-of-the-line key switches. It's about the same price range and performance as the Razer BlackWidow Chroma V2.
Featuring tons of gaming functions, including Cherry MX keys, discrete media controls, and swappable keycaps, the HyperX is our clear winner for the best gaming keyboard.
Best keyboard for work
If you use your keyboard in your business life, a good one can improve your productivity. Designers and developers spend countless hours pushing keys, switching between programs, and using shortcuts, so a decent keyboard is worth the investment.
Choosing the wrong keyboard can leave you with painful wrists, so take time to choose the best one. The Razer Orbweaver Chroma keyboard lets you adjust both the horizontal position and the angle of the soft-touch palm rest. The thumb module has a thumb-friendly joystick and two buttons that can be independently positioned. The Razer is an excellent keyboard that is perfect for designers or gamers.
The separate thumb area is so you don't need to take your fingers off the important movement keys as often, which speeds up usage. The buttons on this keyboard are all programmable, and you can also remap the keys.
The controls are intuitive and smooth for design programs such as Photoshop, Adobe, etc. But beware, after using the Razer Orbweaver for a while, it will become difficult to switch back again. The comfort and support provided by this keyboard are much better than most standard keyboards.
And if you're looking for something a little more lightweight and portable, check out these best keyboards for travel.