This is our carefully considered list of sites like Uncrate that feature stuff men love! These sites focus on things like beer, gadgets, motorcycles, outdoor living, health, and the latest gear aimed predominantly at men.
Launched in 2005, Uncrate is one of our favorite websites for men, with over 9,000 cool items covered and over 1.5 million regular readers!
Uncrate has gained a fearsome reputation in the world of men's websites and is seen by many as an industry leader in unearthing the best men's products and providing insightful information about the coolest gear for dudes available today! Uncrate is the granddaddy of sites for men's gear (both online and in print), with a staggering 10 million page views per month.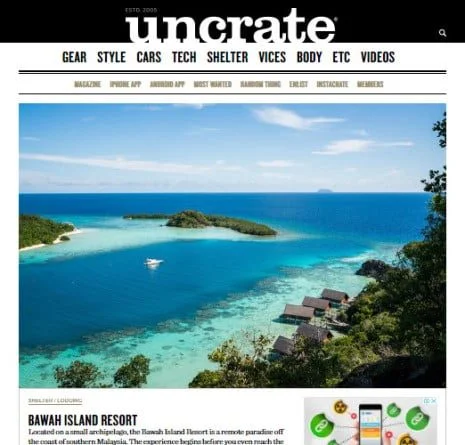 This lovely blog features some of the best-written articles you can find online. The design and navigation of the site are top-notch, and they publish over 40 articles per week, so there's always something new to read.
Uncrate is known for showcasing "higher-end" products focusing on tech gear and new apps.
Our favorite articles from Uncrate
Other Half All Green Everything IPA
Everyday Ape is a mere "baby" in men's websites (having only launched in mid-2017). We aspire to be as respected and professionally made and run as the following list of websites one day!
Table of Contents
Hi Consumption
Hi Consumption is a men's lifestyle magazine featuring fantastic articles about what men love. Articles are on various interests, including tech gadgets, the latest vehicles, style guides, and fashion. Hi Consumption keeps you up-to-date with all of the emerging trends for guys.
Our favorite articles from Hi Consumption
Best Snowboarding Gear for Every Rider
2015 Harley-Davidson Street 750 by NO. 8 Wire Motorcycles
Gear Patrol
Next on our list of sites like Uncrate is a beautiful website that was founded in 2007 and has a vast readership. The articles are carefully written, and the images are stunning. The site emphasizes outdoor products but also features EDC (everyday carry), watches, booze, fashion, and tech products. Gear Patrol is one of the finest online magazines for men in the webosphere!
Our favorite articles from Gear Patrol
The Best Scotch Whiskies Under $100
Bless This Stuff
This website features all the latest gear that men "drool over." Bless This Stuff is a celebration of the coolest gear you can buy and features a great mix of articles on culture, cars, interior design, architecture, and fashion. This European men's gear blog features many products you can't find anywhere without a waffle.
Our favorite articles from Bless This Stuff
Dude Living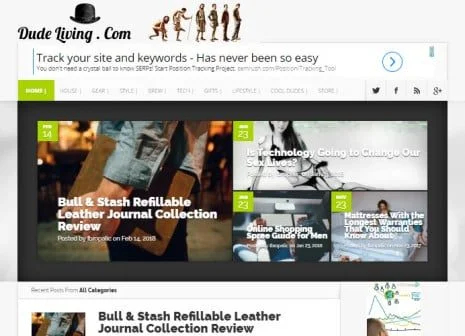 This funky website has gained a reputation for showcasing the best products for men worldwide! New articles are regularly added to Dude Living on various topics, including house, gear, style, beer, and tech gear. This man's website gives more product information with handy buyer guides.
Our favorite articles from Dude Living
Is Technology Going to Change Our Sex Lives?
Beauty Chocolate – The Miraculous Benefits of Dark Chocolate
Gear Moose
Men are drawn to Gear Moose like "moths to a flame!" This well-curated selection of men's gear focuses on technology and features many EDC items. We love the site's minimalist design; the easy-to-use navigation allows users to browse the site easily. This is one of our favorite sites like Cool Material!
Our favorite articles from Gear Moose
The 12 Best Beers To Drink For Breakfast
Man of Many
Launched in December 2012 by two friends from Sydney, Australia, Man of Many has a fine selection of the best products and well-written articles on style, technology, culture, and fashion. We love the "deals of the week" section, and their articles on some of the most incredible rides on the planet are worth a look!
Our favorite articles from Man of Many
Men's Gear
Another website launched in 2012, Men's Gear is a digital magazine for "manly" men. Men's Gear features carefully written articles about various topics, including cool gadgets, fine whiskeys, outdoor living, and style. The website is quick to use and regularly updated with new blogs for real "men's men."
Our favorite articles from Men's Gear
Shut up & Take my Money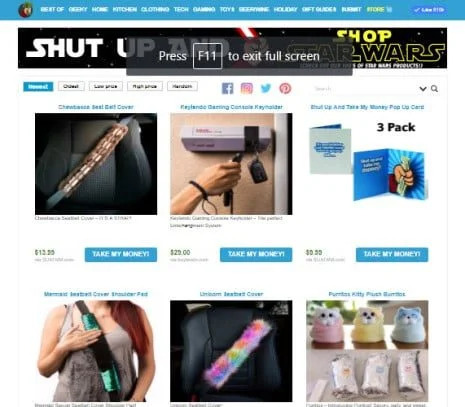 This remarkable men's shopping site contains thousands of the coolest gadgets, games, apparel, and tech gizmos available today. Often, Shut Up & Take My Money has the best prices, so you should always check if you can find what you're looking for here before you buy from somewhere else. We love the range of categories, including gaming, toys, zombie, kitchen, and geeky.
Our favorite articles from Shut Up & Take My Money
Edible Anus Chocolates!
Party Beer Scooter!
This is Why I'm Broke
What other sites can you see a water jetpack next to an indoor worm farm? This is Why I'm Broke is an online shopping mall stacked to the rafters with funny, unique, inspirational, and inventive gifts worldwide. Some of our favorites from the site of the "TwerkBot 9000" (a twerking robot), a velvet wrap for your car, a box of 4,500 live ladybugs, and a dolphin powerboat!
Our favorite articles from This is Why I'm Broke
Zombie Beef Jerky
The World's Largest Pacman Game
The Art of Manliness
The Art of Manliness is a beautifully written website for men unsure of their societal roles and have lost the confidence, skills, and virtues that their male ancestors once embodied.
In today's confusing and sometimes androgynous society, many dudes are baffled about their place in the world and what it means to be a self-respecting gentleman.
While many men's websites are primarily about sex, fast cars, and more sex, the Art of Manliness aims to show us chaps that there's more to being a man than Armani suits and the latest Ferrari!
The AOM covers all topics, from the serious to the hilarious. Their mission is to help us be proud of ourselves and live with honor & integrity so that we can become better husbands, fathers, brothers, and valuable members of society.
Our favorite articles from The Art of Manliness
Be Your Own Boss: 37 Side Hustle Ideas
Keep Your Head: 4 Exercises for Building Your Mental Toughness Inspired by War
Cool Material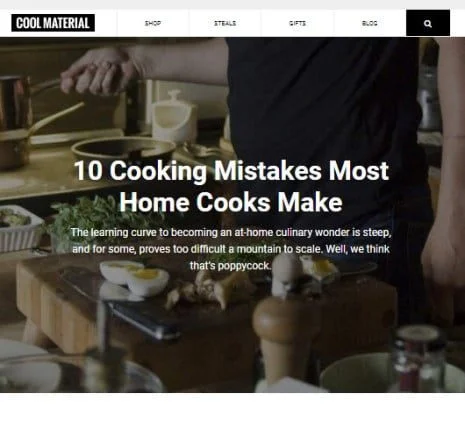 Cool Material is another men's gear website with insightful articles on the latest gear that dudes want!
Cool Material started as a humble hobby blog in 2009 and has become a monster! The editors deliver a daily dose of carefully selected products they think men will love. In addition to showcasing the products, they take you inside workshops and stores to bring exciting posts about the latest brands and artisans.
Since its inception, Cool Material has kept its quality, individuality, and coolness for over a decade! This fantastic site for men features a shop, gift guides, discounted & sale gear, and most importantly, some of the best blogs primarily written for men.
Our favorite articles from Cool Material
Bucket List Breweries: 20 U.S. Breweries You Should At Least Visit Once
If you enjoyed this article, you might like to check out our article 19 of the Best Instagram Accounts for Men to Follow.