If you are a guy trying to work out how to manscape your junk, you are in the right place. You wouldn't cut your way through an untamed and wild jungle terrain without coming up with some plan. And the same applies to clearing the wilderness between your legs!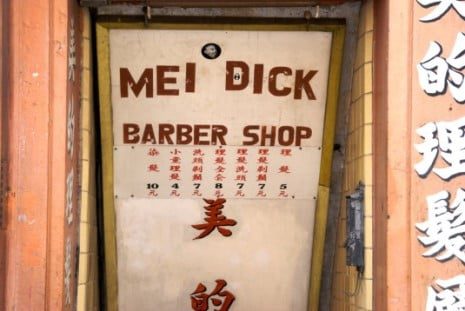 The area in question has many names, but to avoid any confusion, this article shows you how to shave your genital/pubic area. It also details the considerations that must be made before you decide to "whack the weeds" of your own "private garden."
Bringing something sharp anywhere near your nether region can cause great anxiety. That bush is atop a sensitive terrain, where even the slightest mishap can be disastrous!
Why do men shave their private parts?
Reasons why men manscape their junk, are varied, but one of the main benefits is that it just looks better. It also feels cleaner, but you will suffer from uncomfortable and itchy balls if you do not keep up the trimming duties.
Another reason for men shaving their genitals is pressure from partners. According to a recent survey, more than half of the men interviewed shaved their groin to please their partners. A surprising six in ten men said they wouldn't fight much before they had agreed to shave their pubic region.
Other reasons for removing your pubic thatch include;
That it gives you an "optical extra inch."
It reduces friction (especially when playing sports)
It reduces any unpleasant odors
You can feel more comfortable in underwear
Trends in the media/porn industry
In another Gillette survey, 92% of women said they preferred a neat and tidy guy around their junk.
Pros of manscaping your junk
It's quick (after the first few times and gives instant results
Leaves you with soft skin
Increases sexual pleasure/sensitivity
Smells fresher as hair collects odor
Your partner will probably prefer it
No more pubes in your partner's mouth
It makes your wang look larger!
Cheaper than waxing or laser hair removal
Cons of manscaping your junk
Can cause skin irritation
Razor burn is possible
Nicks & cuts for beginners
Hair regrowth can be painful
Skin can be itchy
Pimples can develop in some men
Ingrown hairs are more likely
There is a slight risk of catching an STI
Manscaping statistics
In a study published in JAMA Dermatology, out of 7,500 adults surveyed, about 67% of men (compared with 85% of women) had attempted to groom their pubic areas.
The study looked at injuries caused by novice groomers. Of the surveyed, roughly 4% admitted to getting professional help with their bush, and approximately 9 percent confessed that they had asked their partner to help with trimming their pubes.
About 24% of men reported an injury relating to removing their genital thatch, with the poor old ball bag taking the most damage. An eye-watering 67% of all injuries were to the scrotum, with 38% to the penis itself! Blokes suffered burns from waxing incidents, rashes, in-growing hairs, and razor nicks.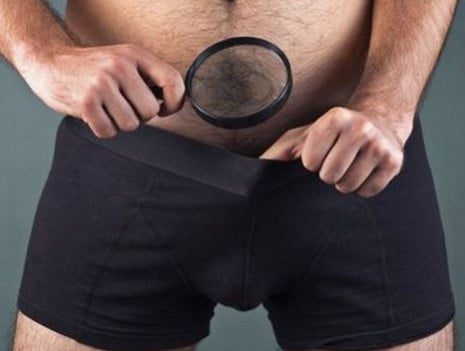 What manscape tool you'll need
This depends on whether you want to go " old-school" with a manual razor or speed up the process with an electric trimmer.
With a razor, you'll need a top-of-the-line razor, a premium shaving cream/gel for sensitive skin, and a cooling body powder or moisturizer.
If you're using an electric trimmer/groomer, you will need a reputable machine and a good quality body powder or moisturizer.
With both methods, you should use some form of scrubbing agent, such as a body wash or shower gel, to clean yourself thoroughly. Other things on the list for a delicate trim are scissors, a fog-free mirror, exfoliating scrubs, and shaving oils.
Laying the groundwork
Remove most of the hair with scissors or a trimmer/body groomer if your bush resembles Santa's beard. Be careful, though, as some trimmers can be unsuitable for your nut sack, so probably safer to use some scissors if you're a novice.
Clean your body thoroughly with a good-quality shower gel. Some men like to exfoliate, which removes any dead skin for a clean feeling. Make sure the area is hot and wet before moving on.
Now that the preparation is done, you'll learn how to manscape your junk!
How to manscape properly
Don't multitask with the tools you intend to use in your pubic area. It would be best if you did not use scissors or a trimmer that will be used on your head. That's because bacteria, such as staph (Staphylococcus), can remain on old razors, etc.
How to shave your junk
Lather the area (including the scrotum) with shower gel/foam.
Pull the area of skin (not including the scrotum) that you wish to shave as taught as possible. Use very light strokes (going with the grain). Rinse your razor each time you shave an area to expel excess hair.
Shaving under the scrotum is best achieved by crouching down with legs apart and holding a hand mirror directly under you. You can rest on the shower floor (with the shower off), grab your sack and pull upwards with one hand. Using your other hand, carefully take the razor and slowly shave with gentle and light pressure.
After successfully shaving the area, use a good quality antibacterial soap to wash in cool water, which will help close hair and skin follicles.
Use a fresh towel to pat yourself until dry gently. Avoid rubbing the area you have just shaved, as this could irritate.
Hydrate the area by applying a light, unscented lotion or rubbing in pre-shaving oil. Some men like to be super-cautious and use an antiseptic gel. Be wary if you have sensitive skin; try a small amount to test how it feels first.
After the area has dried, you can use a little body powder on the shaved area. This is popular with guys active at the gym or involved with sports. This helps with drying and makes you feel fresher.
Dealing with nicks or cuts
Even if you're careful when you manscape your junk, you may still get the odd cut. According to a 2012 study from the University of California at San Francisco, cuts were the most common injury sustained during pubic hair grooming.
If the worst happens and you draw a little blood, don't panic. Just clean the area thoroughly with soap and warm water. Then use an antiseptic as required.
If it's just a superficial cut, apply pressure with damp toilet paper to allow the blood to clot. Apply firm pressure to the affected area for 10 to 15 minutes. In extreme cases, if the bleeding doesn't stop after 20 minutes, call your doctor, as you may need stitches.
The gear you need to manscape your junk
Best trimmers for manscaping
The MANGROOMER Ultimate Pro is the ultimate Do-It-Yourself electric hair shaver. It was built after more than ten years of research and development.
Remington's PG6157 Head-to-Toe Trimmer Kit is a complete grooming kit. The premium trimmer features titanium-coated stainless steel blades for maximum precision.
A long-lasting Lithium Power battery powers the Remington PG525 Head-to-Toe Body Groomer Kit. This head-to-toe trimmer has all the attachments to take care of unwanted hair.
Best razors for shaving your bush
The Vikings of Valhalla endorse the VIKINGS BLADE Chieftain Safety Razor!!!
Gillette's Fusion ProGlide features a razor handle with FlexBall technology which responds to contours and gets virtually every hair.
The Schick Hydro 5 shaves, edges, trims, and hydrates to provide an excellent shave.
Best shaving cream for your privates
The Art of Shaving Shaving Cream is rich in glycerin, coconut, and essential oils, making your skin smooth and moisturized.
Neutrogena Razor Defense Shave Gel helps prevent razor bumps and cuts and boosts skin's resistance to razor irritation.
Bump Patrol Cool is a dermatologist-recommended shaving gel and can be used anywhere on the body. It contains menthol for a more comfortable shave.
Best post-shave for your wedding tackle
AHAVA Soothing After Shave is quickly absorbed into your skin to enrich moisture and provide effective antibacterial action for a fresh, soft feeling.
Shaveworks – The Cool Fix helps reduce ingrown hairs, razor bumps, razor burns, and redness. The Cool Fix also helps release trapped hairs underneath the skin, kill bacteria, and prevent ingrown hairs from reoccurring.
Grooming Lounge – The Shavior contains moisture, antioxidants, and sun protection botanicals.
Best powders for soothing your nether regions
Balla Powder Talc is a fine Italian talcum powder with a subtle fragrance. It leaves your entire body feeling dry, comfortable, and smelling great.
Grooming Lounge Super Powder can help reduce itching and scratching on private areas and absorbs sweat too. Its fine consistency goes on light but absorbs sweat to prevent chafing.
Gold Bond Ultimate Comfort Body Powder is specially formulated to provide the ultimate in freshness,
odor protection, and moisture control.
Other top manscaping necessities
Baxter of California's Exfoliating Body Bar uses a rich, hydrating formula that exfoliates dead skin cells with pumice, jojoba meal, and crushed olive seeds.
The Deluxe Fog-free Shower Mirror's surface equalizes to create a long-lasting, fog-free reflection for the duration of your manscaping activities.
The Pro Barber/Salon Razor Edge Hair Cutting Scissors are made from stainless steel and tempered with precise blades. They have a hand-sharpened cutting edge.
No products found.
If you enjoyed this manscaping for beginners guide, you might also like to know how to grow a beard fast.