Everyday Ape is a participant in the Amazon Affiliate advertising program which means that we may get a small commission on any purchases made from our links.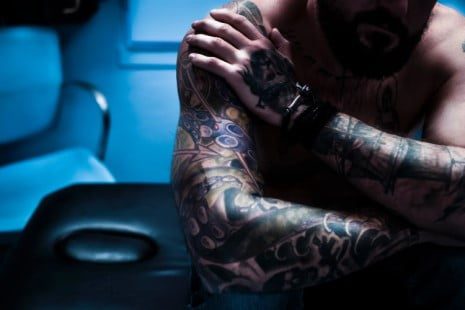 If you're reading this article, you've probably been searching online for prices of full-sleeve tattoos. If you've read a couple of articles already, you're probably getting frustrated by not being able to get a straight answer! But don't despair as the Ape has been hanging out in tattoo parlors all week to help you answer the question "how much do full-sleeve tattoos cost?"
How much do full-sleeve tattoos cost?
There are a few things you need to think about before you can get a good estimate of the cost of a sleeve tattoo. It's important to think about how large you want the tattoo to be, the exact placement of the tattoo, the amount of detail you require, and finally the amount of shading that your sleeve tattoo should have.
Getting a sleeve tattoo is a very exciting and sometimes emotional journey. We guess you've been dreaming about getting a tattoo for months or maybe even years, and now you're "chomping at the bit" to get started.
By the end of this article, we hope that you have a good idea of the cost of your perfect sleeve tattoo so that you can schedule your appointment and get that work of art on your body.
What do you need to know to get a price for a full-sleeve tattoo?
Be there in person to talk to your chosen tattoo artist
The first step in getting a sleeve tattoo (or any other kind of tattoo) is to arrange free consultations with 2 or 3 different tattoo shops. During the meeting, you'll have the chance to talk to a tattoo artist, look at his/her previous work and chat about your intended tattoo and the cost of getting it done.
Know the size of the tattoo you want & the level of detail
Probably the first question a tattoo artist will ask is just how big the tattoo will be. Is it a full-sleeve, half-sleeve, or perhaps just a few smaller tattoos which will later lead to a full-sleeve tattoo in the future?
Know exactly where you want the piece
This may appear to be a silly point but sleeve tattoos can vary in placement. They can be placed on the upper arm, lower arm, or entire arm. Usually, sleeve tattoos are wrapped around the whole arm and starting at the wrist and finishing at the shoulder. They can also spread onto the chest and back areas.
Know the design of the tattoo you want
If you have no clue about which design to get, you need to slow down and spend a bit of time looking at the kind of sleeve tattoos that other dudes are getting for some ideas.
An awesome place to start is Instagram. There are thousands of guys that love nothing more than to show off their tats on this social media platform. You can even find similar designs to the tattoo you want and send the proud wearers a message asking them for more info about their skin work. If they're on Instagram, then they'll probably be only too pleased to get some attention!
You can also check out 20 of the most popular tattoo styles in our previous article.
Factors that determine the cost of your tattoo
The skill & experience of the artist
This is the leading factor in determining the price a tattoo artist charges. A professional tattooist will charge more for his/her service. They usually charge by the hour but will charge per piece if the tattoo is small and can be finished in one sitting.
If the artist has tattooed for ages but has little skill, or they have a lot of skill but little or no experience, they won't be able to charge top dollar. A tattoo artisan must have both of these attributes to ask for higher rates.
The amount of color in the piece
Tattoos with only one color are cheaper than those with many colors. The reason for this is that colored tattoos require more detail and that means more time and more cash (as the artist will usually charge by the hour).
If you are interested in watercolor tattoos, get your credit card ready as they can cost up to $400 for a four-inch-wide tattoo. Something else to bear in mind is that multicolored pieces require filling which takes time and can be tedious and/or painful to complete.
The location of the tattoo studio
The geographical location of the studio can be a big factor in the pricing of tattoo artists. The price will be higher in big cities than in small towns.
In the United States, a full sleeve piece can cost thousands of bucks in metropolitan areas, but only hundreds in a small town or a different country. As a rough guide, getting a tattoo in California is about double the cost of getting one in Arkansas.
The detail in your design
One more contributing factor to the cost of your tattoo piece is the complexity of your chosen design. As we mentioned, if you want a lot of color or shading, you'll spend more money along with more time in the tattooist's chair. Watercolor tattoos are particularly expensive as they require a lot of colors and a highly skilled artist.
If you have gone through the trouble of either drawing or buying custom-designed artwork, this can also push up the price. This is because the artist may not have experience with your proposed piece, so it will take longer to finish.
Can I get a tattoo designed before I go to the tattoo studio?
Yes, you can! We recently came across a website that will create a custom design tattoo just for you!
Custom Tattoo Design brings tattoo ideas to life. Work with their amazing staff from anywhere in the world. Getting a tattoo is a life-long decision and making sure your tattoo is 100% perfect should be at the top of your priority list.
Designing a custom tattoo properly takes 5x longer than actually getting your tattoo completed. Their professional artists spend hours researching quality references and making sure the composition flows perfectly together. Whether you're looking for a simple tattoo design, custom tattoo sleeve, cover-up, or a personalized memorial, they would love to help you with your design.
How much do tattoo artists charge?
A tattoo studio in Bangkok will not charge the same as one in New York. For this article, we are focusing on prices in the United States (as most of our readers are from the U.S.).
As you start shopping around for tattoo prices, you'll soon realize that prices can vary quite a lot. But to keep things simple, the industry standard is around $150 per hour for experienced tattoo artists in the United States.
You may find artists charging as little as $100 per hour and you may find others charging as much as $200 – $250 for each hour that they work. If you have your heart set on one of the top tattooists in the country, don't be surprised if they quote $300 – $500 bucks per hour for the privilege of getting their work placed on your skin.
To put things into context, just consider the cost of getting a crappy tattoo removed! Tattoo removal is pricey, with each treatment costing around $200 for just 15 minutes (yes, that's 800 bucks per hour!). Bear in mind that you might need eight or more treatments to remove a large design. So don't get too annoyed if your tattoo artist seems expensive because the price of getting a bad tattoo will turn out to be much, much higher!
Conclusion
"So just how much how much is a full sleeve tattoo?" – A good estimate for you to work from is $150 per hour. It may sound like a lot but you can choose how many hours of work you can afford each week (or month) and spread the cost over any period that suits your budget.
And if you want to know how long the tattoo will take, you might as well ask how long is a piece of string. The best answer we can give is that on average a full sleeve tattoo takes around 6 or more 6-hour sessions, with the average client waiting about 1 month between visits.
---
If you are thinking about getting inked, you will probably also need some info about which tattoo is right for you.